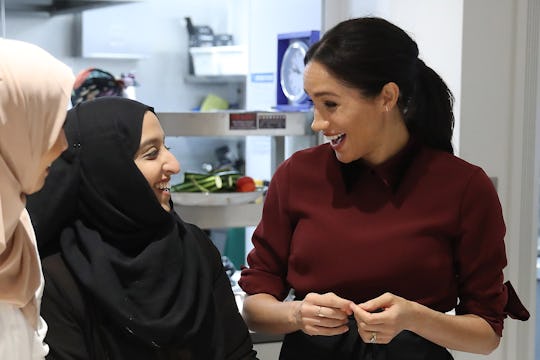 Chris Jackson/Getty Images Entertainment/Getty Images
Meghan Markle & Her Bump Looked SO Adorable During A Surprise Outing — PHOTOS
Before Meghan Markle became the Duchess of Sussex and a bonafide member of the British monarchy in May, she was already working on her first charitable undertaking. As the rest of us spent months wondering what she would wear at her wedding, what sort of flowers she would have, whether or not she might wear a tiara, she had had her own agenda. Months of secret visits to help craft a fundraising cookbook. And now the pregnant duchess wants to take a moment to enjoy the fruits of her labor. On Wednesday, Markle looked so adorable cradling her bump during a surprise solo visit to the community kitchen, reflecting how much has changed since she first began her under-the-radar visits last year.
On Nov. 21, Markle stopped in for a little visit to London's Hubb (which means "love" in Arabic) Community Kitchen, a place where she has spent a significant amount of time cooking and communing with local women. The women of this kitchen have all been affected by the devastating Grenfell Tower fire that killed 72 residents of the London high rise in 2017. Markle began visiting these women last winter after she discovered the all-important community kitchen was only able to be in use two days a week because they didn't have enough funds for more access.
As reported by The New Yorker, Markle proposed a fundraiser cookbook, and in September Together: Our Community Cookbook was launched with a lovely garden party on the grounds of Kensington Palace.
Months after the cookbook launched, it seems as though Markle wanted to get back to the place where she might have felt more at ease... in the kitchen with women she spent months cooking alongside. This time as an expectant mom.
Markle's surprise visit was reportedly her first chance to see the changes that the group of women were able to make to their space from the proceeds of their bestselling cookbook; it has already sold 40,000 copies in the United Kingdom alone, raising $270,000 for the Hubb kitchen, according to Vanity Fair.
Kensington Palace tweeted on Wednesday that the women of the Hubb kitchen are now able to use it seven days a week, cooking for a total of 200 people in the community per day. What's more, they have also been "empowered to gain qualifications and start their own new projects helping others in their community to benefit from the kitchen."
Which would certainly be music to Meghan Markle's ears as a proud feminist.
While Markle was on site to check out the renovations in the Hubb community kitchen, she was also simply catching up with the other women. Connecting, reminiscing, embracing... she was even reportedly heard telling the women she was "so proud" of them, as reported by The Daily Mail.
And perhaps even taking a moment or two to discuss some of the exciting changes in her own life. Her marriage, her public life... and the little life she's growing inside her, expected to be born in the spring.
The Duchess of Sussex might be far away from her native California this Thanksgiving, but I think she found a way to share a little gratitude and nourishment nonetheless.