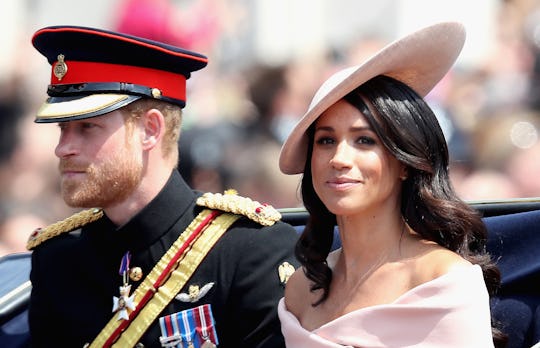 Chris Jackson/Getty Images News/Getty Images
Meghan Markle Might Be Getting Fashion Tips From This Unlikely Source
I love shopping with my lady pals, but sometimes it's extra satisfying to enjoy a shopping date with my fella. Because he's one of those guys who is actually invested in my clothes for whatever reason, and tends to genuinely enjoy helping me pick out my outfits. But the truth is, I need the help. I'm not as stylish as, say, the Duchess of Sussex. That girl has it going on. So I was surprised to read that Meghan Markle might be getting fashion advice from a truly adorable, albeit pretty surprising, source. According to Glamour, that would be none other than her new husband, Prince Harry.
Now to be fair here, long before Markle married Prince Harry on May 19 to become the Duchess of Sussex, she clearly had her own sense of style. I mean, from a personal level alone I can tell you that she has me wearing girlfriend jeans with a tucked-in button down and ballet flats, and I want to thank her for it. Also let's talk about the perfect messy bun and the great coats and the denim on denim... the former Suits actress didn't look like she needed a whole lot of help when it came to her day-to-day look.
Of course, that was before she became a member of the British monarchy. And for that, the rules are decidedly different.
The British royal family, and most especially Queen Elizabeth II herself, have a myriad of subtle-yet-ironclad rules about how their family members should dress. The Queen reportedly needs to approve all brides' wedding dresses, according to Cosmopolitan, and there's also hats and pale pink nail polish (the Queen's preferred shade is Essie's Ballet Slipper, which she's been wearing for 28 years, as People noted), and a whole bunch of significance given to carrying clutches that seem terrible confusing. Cosmopolitan reported that clutches should be carried to politely avoid shaking hands, if that's not your thing, or to cover up a little cleavage when you feel like it, which is actually rather brilliant.
Markle is an American actress who takes great pride in her individuality and once ran a lifestyle site called The Tig, so I think it's safe to assume following these fairly regimented rules might not come naturally to her. Especially if she wants to maintain her brand as a style icon.
Fortunately, she has a pretty great guy in her corner to guide her, as a Buckingham Palace insider reportedly told the Daily Mail. Her husband, Prince Harry, reportedly "gives his views on what he thinks looks best, rather than helping her follow royal protocol on hemlines or anything like that." The royal insider reportedly added that "Harry is Meghan's surprise stylist."
The Duke of Sussex is reportedly so invested in helping his wife that he even attended design meetings at Stella McCartney when the representatives for the fashion house were asked to design a few dresses for her. As the source reportedly told the Daily Mail, Prince Harry "always comes to design meetings and fittings to give his opinions on the looks."
It bears noting that Markle's already-iconic white halter dress worn to her wedding reception at Frogmore House hosted by Prince Charles was designed by Stella McCartney, according to People.
If Prince Harry has been helping Markle with her fashion choices since becoming a royal, the two of them have been knocking it out of the park. When she joined the rest of the royal family on the balcony of Buckingham Palace for the Trooping The Colour on Saturday, she killed it in a custom-made pale pink dress from Caroline Hererra paired with a Phillip Tracy hat, as noted by People. Totally appropriate, but also a total standout. And the only woman in the family to wear off-the-shoulder, which means Markle is still running her own show a little, I hope.