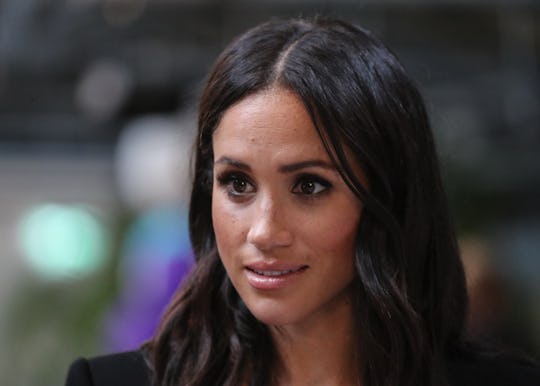 Pool/Getty Images Entertainment/Getty Images
Meghan Markle Once Wrote About Cutting Toxic Relationships Out Her Life
When Meghan Markle married Prince Harry on May 19, I remember feeling a reflected sort of joy for her. Not because she was marrying a handsome prince and getting married at St. George's Chapel in Windsor Castle. Not because her makeup and hair were on point or her dress was perfection, although all of those things were true. No, the real joy I had for her came from her clear resilience in the face of some atrocious behavior by some members of her family. She overcame them, and the moment felt like a long time coming. In fact, Meghan Markle once wrote about cutting out toxic relationships in her life, as Cosmopolitan reported, which makes me think she has clearly done a lot of emotional leg work to deal with all of this public nonsense with her father, Thomas Markle.
Let me refresh your memory, shall I? Meghan Markle, a divorced actress from California, managed to get engaged to Prince Harry of the British monarchy without incident. Despite the historically rigid rules of engagement at Buckingham Palace, Duchess Meghan and Prince Harry made it work by being so clearly and sincerely happy together. Who would try to ruin that joy? Oh, just Markle's own family, as it's seemed, although not her lovely mom, Doria Ragland, that woman is class personified. Unfortunately the same cannot be said for Markle's father or her half-sister.
Her half-sister, Samantha Markle, wasn't invited to the wedding because the two women reportedly haven't been close for many years, according to Express, but Thomas Markle was expected to walk his daughter down the aisle in front of the Queen of England and everything. Instead of just happily letting his daughter enjoy her moment in the sun, Markle reportedly staged some paparazzi photos, according to Cosmopolitan. And when he got caught, he decided not to attend her wedding... to be fair, he also reportedly had some health problems, as noted by CNN.
While I think people might have been sympathetic to his reported illness, it's his behavior since not showing up at the wedding that has been especially troubling. Neither he nor his daughter will stop taking interviews and talking unfavorably about the Duchess of Sussex, who is just out there trying to live her best life.
Sadly, a 2014 blog post Meghan Markle shared hints that this might not be the first time she's had to deal with upsetting behavior from someone close to her, according to Cosmopolitan. Granted, at the time she was going through a divorce from first husband Trevor Engleson (please note that Thomas Markle reportedly didn't go to that wedding either, according to The Mirror), but the quote she shared on her blog from Portuguese author José Micard Teixeira certainly seems like it could apply to her current situation with her father. According to Cosmopolitan, she wrote:
I no longer have patience for certain things, not because I've become arrogant, but simply because I reached a point in my life where I do not want to waste more time with what displeases me or hurts me. I lost the will to please those who do not like me, to love those who do not love me and to smile at those who do not want to smile at me.
Fortunately for Markle, there are plenty of people who want to smile at her these days. Like Queen Elizabeth, her grandmother by marriage.
Meghan Markle is not defined by her relationship (or lack thereof) with her father. His actions say nothing about her, and everything about him. Just imagine what it would be like to have every person in your family, who you may or may not be close with, trotted out in the press to behave however. And suddenly, people are making assumptions about you based on your uncle who likes to collect toenail clippings or some nutty thing.
We all have some real characters in our family, folks. And, as Meghan Markle made abundantly clear in that 2014 blog post, you can choose to let them bring you down. Or you can focus on the people who "love you and want to smile at you."
It's just about the best life lesson out there.