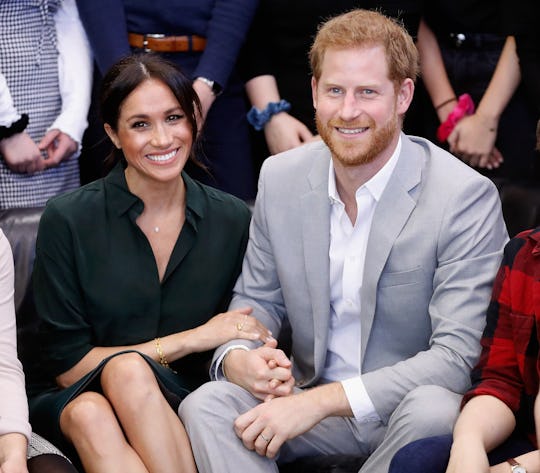 Chris Jackson/Getty Images Entertainment/Getty Images
Meghan Markle & Prince Harry Are Expecting Their First Child Together
Here ye, here ye! Early on Monday morning, Kensington Palace announced the exciting news that Megan Markle and Prince Harry are expecting their first child together and royal fans from across the globe could not be more thrilled for the parents-to-be. "Their Royal Highnesses The Duke and Duchess of Sussex are very pleased to announce that The Duchess of Sussex is expecting a baby in the Spring of 2019," the palace shared on Twitter on Oct. 15.
The palace's announcement continued, "Their Royal Highnesses have appreciated all of the support they have received from people around the world since their wedding in May and are delighted to be able to share this happy news with the public."
News that the Duke and Duchess of Sussex are expecting comes about five months after they tied the knot at St. George's Chapel at Windsor Castle this past May. While it was unclear when exactly Prince Harry and Markle wanted to start their family together, it was always clear they wanted to have to children at some point.
When Prince Harry and Markle announced their royal engagement last year, in November, the 34-year-old duke told the BBC he thought they'd "start a family in the near future." In the near future, indeed...
As Kensington Palace announced that the 37-year-old duchess is due next spring, that would mean Markle is now past her first trimester, or roughly three months pregnant.
As for Markle, it's also been clear that she's wanted to become a mother. For instance, the former Suits star once told Lifestyle, according to Hello! Magazine, that's she's "[dreamed] to have a family." She added in the same interview. "It's all about balance, and I have so much happiness in my career and am fortunate to travel the world and see so many amazing things — it will also be nice to be anchored to something grounded and in the same place. Raising a family will be a wonderful part of that."
Queen Elizabeth II, the royal baby-to-be's great grandmother, has not made an explicit statement regarding Prince Harry and Markle's exciting news, but according to the Daily Express, the Queen is said to be "delighted" with the upcoming addition to the royal family, who will join Kate Middleton and Prince William's children: 5-year-old Prince George, 3-year-old Princess Charlotte, and 6-month-old Prince Louis.
As for the rest of world? Well, people can't help but celebrate the happy news. "Omg Meghan Markle is pregnant BRING those beautiful genes into the royals," as one royal fan so accurately penned on Twitter.
It's not clear at the moment whether they're expecting a boy or girl, but that may not be something they'll announce until their baby arrives in the spring. If they follow in Kate Middleton and Prince William's footsteps, the baby's sex will be revealed on the same day as his/ her birth. But, of course, that won't stop people for taking some educated guesses from now until then...
In the meantime, however, there's plenty to look forward to. Ahem... Meghan Markle maternity fashion?! Needless to say, this is some exciting news that the world most definitely needed.