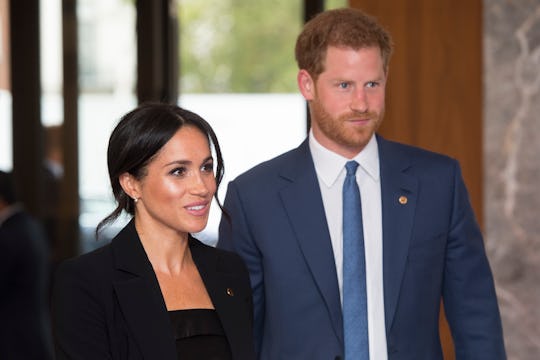 WPA Pool/Getty Images Entertainment/Getty Images
A Very Special Visitor Reportedly Stayed With Meghan Markle & Prince Harry This Summer
Since marrying Prince Harry, Duke of Sussex in May, Meghan Markle, Duchess of Sussex's life has gone through a lot of changes. But based on a new report, it seems like Meghan Markle and Prince Harry had a special visitor during the past few months to make her transition to life as a royal a little easier. Markle's mother Doria Ragland reportedly stayed with the Duke and Duchess in Oxfordshire, England this summer, which I think totally makes her an honorary royal.
Omid Scobie, a royal commentator and contributor for sources including Good Morning America and Harper's Bazaar, and host of the On Heir podcast, shared the news on Twitter this weekend. "ICMI: Sources confirm to @ABC @GMA that Duchess Meghan's mom Doria Ragland visited Prince Harry and her daughter for an extended stay at their Oxfordshire home this summer," Scobie tweeted. "Doria is said to enjoy a close relationship with Harry and continues to be a pillar of strength for Meghan."
Prince Harry and Duchess Meghan's primary residence is Nottingham Cottage, a house on the grounds of Kensington Palace in London, according to The Telegraph. Other royals including Prince William Catherine, Duke and Duchess of Cambridge and their children, as well as Princess Eugenie and her fiancé Jack Brooksbank live in homes on the royal property as well, Business Insider noted. However, Nottingham Cottage is currently being renovated, so Prince Harry and Duchess Meghan have been leasing a home on the Great Tew Estate in Oxfordshire since the royal wedding, Architectural Digest reported. The two homes are about an hour and 45 minute drive apart, based on Google Maps.
It's no surprise that Ragland reportedly had an "extended stay" with her daughter and new son-in-law this summer, considering how close her and her daughter's relationship has always seemed. Ragland touched down in England three days before her daughter's wedding this May, People reported at the time. Photos even surfaced on Getty Images of the mother-daughter pair arriving at Cliveden House Hotel on the National Trust's Cliveden Estate, where they stayed together the night before Markle tied the knot.
And Ragland was right by her daughter's side on her big day. The two arrived at at St. George's Chapel at Windsor Castle together by car before Duchess Meghan walked down the aisle, accompanied by her father-in-law Prince Charles, Prince Of Wales.
And speaking of walking down the aisle... The weeks leading up to any wedding are often a little bit stressful for the spouses-to-be, but for Duchess Meghan and Prince Harry, a slew of obstacles were thrown at their wedding by Markle's father (and Ragland's ex-husband) Thomas Markle, who was supposed to walk his daughter down the aisle.
A few weeks before the wedding, Mr. Markle staged corny paparazzi photos of himself doing wedding-related activities. Shortly afterwards, he admitted to TMZ that the photos were in fact staged, in hopes of making his public image more positive. Days later, reports broke that Mr. Markle had a heart attack, according to CNN. Just two days before the wedding, Duchess Meghan issued an official statement announcing that her dad would not be attending the wedding or walking her down the aisle.
"Sadly, my father will not be attending our wedding," she wrote, according to a tweet by Kensington Palace. "I have always cared for my father and hope he can be given the space he needs to focus on his health."
Duchess Meghan's wedding was clearly surrounded by more drama than she was expecting — not to mention, marrying into the royal family is undoubtedly a bit of a culture shock. So, it's pretty amazing that Ragland was able to take time away from her life in Los Angeles to be a "pillar of strength for Meghan," as Scobie put it.