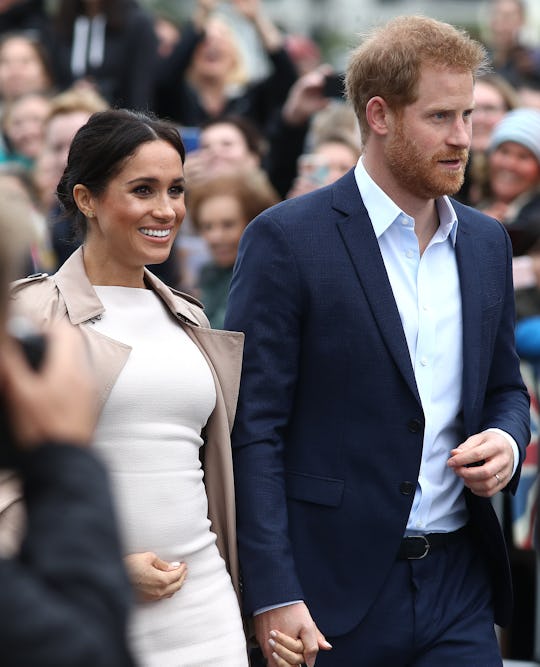 Phil Walter/Getty Images Entertainment/Getty Images
The Queen Might Let Meghan Markle & Prince Harry Choose A "Unique" Name For Their Baby
Meghan Markle was a whole entire person before she became the Duchess of Sussex and Prince Harry's favorite hand to hold. She was someone with dreams and hopes and plans for the family she might have someday. The former Suits actress has made it clear from the outset of her royal-based fame that she has her own mind and her own taste. And as much as she's willing to blend in with the royal family, I suspect she isn't willing to completely change for them. The good news is, she might not have to. In fact, according to a recent report from The Express, Prince Harry and Meghan Markle might get to choose a "unique" baby name, instead of a historic moniker, for their bundle of joy.
As with everything else in the royal family, there are rules when it comes to naming your baby. Just ask Prince William and Kate Middleton, whose three children are all blessed with several middle names and historically meaningful first names, as noted by Business Insider. Prince George is reportedly named for his ancestor King George V, Princess Charlotte was named for her grandfather Prince Charles, and Prince Louis for his great-grandfather Prince Phillip's uncle Lord Montbatten, as explained by Business Insider.
All good names, of course, but maybe Meghan Markle was thinking of something a little more personal?
While betting sites like Ladbrooks have already been racking up traditional royal family name choices like Victoria and Albert for Prince Harry and Meghan Markle's baby, who is expected to arrive in the spring, maybe they're jumping the gun a little. Royal expert Carolyn Harris, author of Raising Royalty: 1,000 Years of Royal Parenting, told Vogue Australia that Queen Elizabeth II might relax the naming rules for the couple. And not just because she's clearly a big fan of them both either; apparently a precedent has already been set.
According to The Daily Express: "The further down the line of succession, the more likely you are to have a more unique or untraditional name. We see, from the diversity of names among the Queen's descendants, that the Queen does seem willing to allow the descendants to choose their own names."
This actually makes sense when you think of some of the other royal names in the family; Prince Andrew's two daughters Princess Eugenie and Princess Beatrice, for instance. As a younger son who is not in direct line to sit on the throne, he and his wife Sarah Ferguson don't appear to have been expected to follow the strict naming guidelines for royal children.
So here is my prediction for what it's worth; much as she did at her wedding in May, I think Meghan Markle will find a way to blend a healthy respect for royal tradition with her own personal, feminist values. A name that hearkens back to her own background as a California girl but with a royal twist.
In other words, she will find the baby name version of a lemon and elderflower wedding cake. Because that's just who Meghan Markle is; a woman who knows how to seamlessly blend respect and individuality.
Or she'll pick something totally out there. Either way, I'm already dying to know.