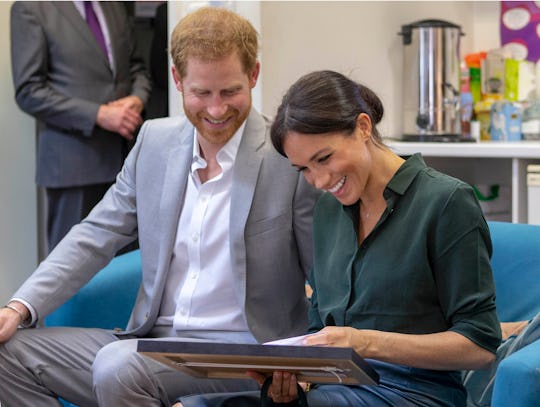 WPA Pool/Getty Images Entertainment/Getty Images
Prince Harry & Meghan Markle Are Finally Divulging Details Of Their Adopted Pup
Prince Harry and Meghan, Duke and Duchess of Sussex, are both big dog lovers (even if Queen Elizabeth II's dogs may not be big Prince Harry lovers — more on that in a moment). So it makes sense that shortly after their wedding, the couple rescued a dog together. They have kept pretty mum about their joint pup, but just this week, Meghan revealed a new detail about their adopted dog.
This week, Prince Harry and Meghan made their first official visit to Sussex, England since the Queen gave them the titles Duke and Duchess of Sussex at their wedding. On Wednesday they visited the Survivors' Network, a group based on Brighton, East Sussex, People reported. The Survivors' Network supports survivors of sexual violence and works to lessen sexual violence in the area, according to the organization's website. As seen in a Twitter video captured by The Daily Mail's royal correspondent Rebecca English, The Survivors' Network's director Jay Breslaw presented the Duke and Duchess with a framed drawing of their dog, made by local artist Drawings of Dogs.
"No one's even seen our dog, so that's..." an amazed Harry said upon seeing the illustration, before trailing off. "I know, and they keep getting her name wrong," Meghan added with a laugh. "Oh no, no, no that's Guy!" Harry realized. "Oh, that's Guy!" Meghan said.
Basically, Meghan and Harry thought the cartoon was meant to represent the dog they adopted together earlier this summer, but they then realized it was Guy, the beagle Meghan rescued a few years ago and brought with her to England. Unfortunately, Meghan had to leave her other rescue dog Bogart back in Toronto, in the care of friends, according to Vanity Fair.
After news broke that the couple had rescued a dog together, various reports circulated that the doggo's name was Oz, Hello! reported in late August. However, Meghan's statement this week makes it clear that their dog's name is not Oz — and because Meghan referred to the new dog as a "her," it seems like their dog is female. Not to mention, in early September, royal biographer Sally Bedell Smith claimed that the couple's dog was a black Labrador, The Daily Mail reported. However, Smith also claimed that the dog's name was Oz, so whether or not their dog actually is a black Lab is anybody's guess.
The Survivors' Network shared a close-up shot of the illustration, which depicts an out-of-frame voice talking to Guy. "Who's a good boy? Who's a good boy?" the phantom voice asks the beagle. "A boy who makes every effort to dismantle the patriarchy (whilst keeping in mind intersections with other forms of oppression)," cartoon Guy replies. OMG. How can I get a copy of this?
In their first joint interview back in November, right after announcing their engagement, Meghan and Prince Harry made it clear who the Queen's dogs preferred out of the two of them. "The corgis took to you straight away ... I've spent the last 33 years being barked at. This one walks in, absolutely nothing," Harry said to Meghan, after she opened up about getting to know the Queen, the BBC reported at the time. "Just laying on my feet during tea, it was very sweet," Meghan confirmed, according to the BBC. No matter what their dog's name or breed is, hopefully she takes to Harry better than the Queen's dogs do.