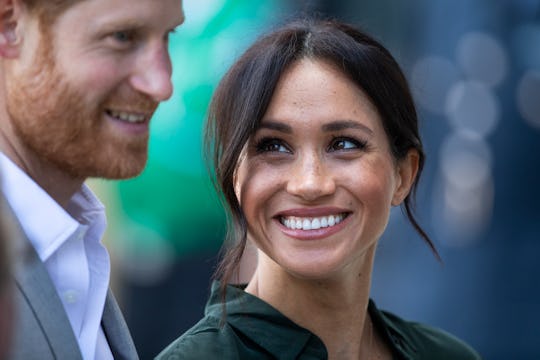 Dan Kitwood/Getty Images Entertainment/Getty Images
Here's The Royal Title Meghan Markle & Prince Harry's First Baby Is Expected To Get
Roughly five months after tying the knot at Windsor Castle this past May, Kensington Palace announced on Monday, Oct. 15, that Meghan Markle is pregnant and expecting her first child with Prince Harry. The palace also revealed that the Duchess of Sussex is due this spring, but there are still many questions to be answered. For instance, what will Markle and Prince Harry's baby's royal title be?
At this moment, as Metro explained, it's a safe bet to assume that the next royal baby will be given "the title of Lord or Lady, taking the surname Mountbatten-Windsor." However, you shouldn't expect Prince Harry's first child to also be a prince (or princess). According to The Mirror, because Prince Harry is too far down in the line of succession to the throne — he's currently sixth, as noted by The Telegraph — the queen would have to step in and change some old royal rules linked back to 1917 put in place by King George V for the Duke and Duchess of Sussex's baby to be called "prince" or "princess" whenever he or she is born.
Until that happens, though, here's what is known about the upcoming royal baby's expected title.
As The Mirror explained, if Prince Harry and Markle are expecting a son, he would given the title of Earl of Dumbarton, which is one of the "subsidiary titles" Queen Elizabeth gave her grandson on his wedding day this past spring. Meanwhile, if they're expecting a daughter, she would be known as Lady (whatever first name they choose) Mountbatten-Windsor, according to The Mirror.
Although Prince Harry and Markle's baby is not expected to be a prince or princess, he or she will be in line to the throne. According to TIME, the royal baby-to-be will seventh in the line of succession, as Prince Harry is currently sixth, while his older brother, Prince William, is second in line.
No matter what title their baby is given, it's clear that the royal family and royal fans from across the globe could not be more excited for the parents-to-be, who seem equally thrilled. "Their Royal Highnesses have appreciated all of the support they have received from people around the world since their wedding in May and are delighted to be able to share this happy news with the public," Kensington Palace shared on Twitter on Monday.
News that Prince Harry and Markle are expecting comes days after royal watchers thought the duchess' coat at Princess Eugenie's wedding was a hint that she was trying to conceal a pregnancy bump. Now, the reasoning was certainly ridiculous; it's October in England, she was sitting in a cold church... a coat can mean so many things. But, as it turns out, the Duke and Duchess of Sussex did have some exciting news they had been keeping under wraps.
And now that the cat's out of the bag, the next few months will certainly be exciting. Whether Prince Harry and Markle's baby will be a prince or a princess, or lady or an earl, one thing's for certain: the world is getting another royal baby.