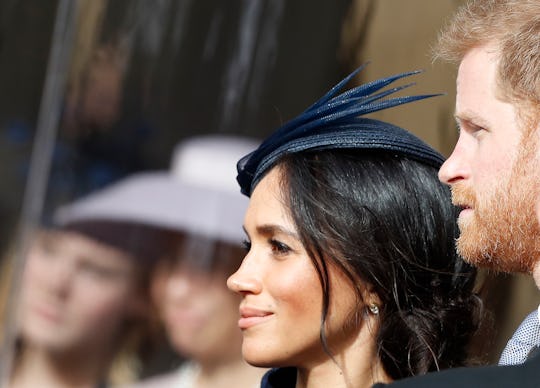 WPA Pool/Getty Images Entertainment/Getty Images
People Think Meghan Markle Is Pregnant Yet Again For The Most Ridiculous Reason
In case you missed it — because it did air in the U.S. during the early morning hours of Friday, Oct. 12, after all — Princess Eugenie is officially a married woman. Although Eugenie is pretty far down there on the list of successors to the throne, her wedding to Jack Brooksbank had all the trimmings of a royal affair. This included a live-stream of the nuptials starring high-profile guests dressed in fancy hats including new royal Meghan Markle. Of course, as a result of her appearance, people are convinced Megan Markle is pregnant yet again for the most ridiculous reason.
The Duke and Duchess of Sussex — who tied the knot at that exact location on May 19 — were among the highly sought-out guests at Friday's wedding. And apparently, plenty of people think Markle could be pregnant because, wait for it, she wore a coat on Princess Eugenie's big day, according to Glamour. (Yep, for real, guys.) Which is simply ridiculous, considering the vast number of other guests who also happened to be wearing coats at the time — as Glamour expertly pointed out. Nevertheless, Twitter erupted with cries of a bump alert when Markle arrived wearing a long coat, and then continued wearing it inside during the ceremony.
As Cosmopolitan reported, one Twitter user wrote, "Something about Meghan's outfit choice makes me think she's pregnant and hiding a baby bump. It's so conservative."
Another Twitter user wrote, "I stayed up just to see what Meghan Markle is wearing and if she looks pregnant. She's wore a long blue jacket that she didn't take off in the Church. Could she be hiding something?"
Yet another person chimed in with, "Judging by the fact that she's wearing a heavy coat indoors; Meghan Markle is either pregnant or the type to get chilly easily. #royalwedding#royalwedding2."
However, as another Twitter user pointed out, Markle could simply still be getting used to the cooler weather — something she didn't have to deal with as much before becoming a member of the royal family. They wrote, "She's from Cali, she's COLD in the UK!" Because, spoiler alert: Wearing a coat has more than one function, aside from hiding a budding baby bump.
For the record, other reasons royal fans have suspected the Duchess of Sussex is with child since she married Prince Harry have been equally as silly. Like the fact that she and Prince Harry adopted a dog together — so naturally, a baby must be the next conquest in their near future, according to OK! magazine. Or that she wore a dress with ruffles on the the front during a September appearance, Us Weekly reported. Perhaps the most perplexing theory, though, was that Markle definitely had a bun in the oven because she wore her hair straight. *Face palm*
Is it just me, or does a new "Meghan Markle is obviously pregnant" conspiracy theory pop up pretty much every week now? Look, I get it. A royal couple got married five months ago, and the world is more than ready to take bets on the sex of another royal baby, speculate about potential baby names, and delve into royal maternity fashion police mode. But scrutinizing every outfit and every single detail about the Duchess of Sussex's physical appearance in the meantime? It's major overkill, if you ask me.
Look at it this way: They probably got a dog because they like dogs. Markle likely wore her hair straight to switch things up a bit. And it's entirely possible that she donned a coat to Princess Eugenie's wedding because it was chilly — and the coat was seriously on point. So let's stop the madness, shall we? I'm sure the Duke and Duchess of Sussex will announced their baby news when/if it happens for them — and when they're damn well ready for the world to know.