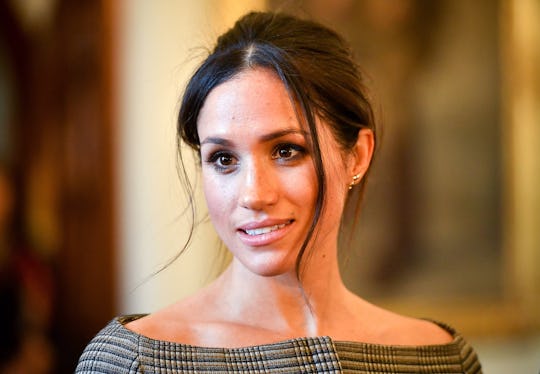 WPA Pool/Getty Images Entertainment/Getty Images
Meghan Markle Received Her First Gift From The Royal Family, & People Are Furious About It
On Wednesday, the Royal Family released a very interesting document about the gifts they received throughout 2017, according to TIME. Although most of the goodies on the list are pretty standard items (book, t-shirt, etc.), one present in particular is majorly pissing people off. Apparently, Meghan Markle received an apron as her first royal gift, and naturally, the internet is up in arms about the seemingly sexist snub. What the heck is Markle supposed to do with a dang apron, right?
I'm just going to go right ahead and say that Markle hasn't had an easy time as Prince Harry's fiancée thus far. Immediately after the couple got engaged in November (doesn't this seem like a lifetime ago?), Markle received a lot of unwarranted criticism about her background (there's much more to her than her leading role on Suits, people), and she has been the subject of numerous racist attacks.
In fact, just last week, the girlfriend of Henry Bolton, a prominent politician in the United Kingdom, was exposed for derogatory texts she supposedly penned about Markle. "She's black. A dumb little 'actress' that no one has heard of," Bolton's girlfriend, Jo Marney, wrote, according to The Daily Mail. "This is Britain, not Africa." A representative for Bolton and Marney did not immediately respond to Romper's request for comment.
And considering Markle has had a really rough go of it, to say the least, it's totally understandable that her supporters are enraged that she received an apron as her first official gift. It's almost as if the person who gave it to Markle, an unidentified person in Finland, according to The Telegraph, is trolling her or something.
Because in comparison, Prince Harry received a treasure trove of gifts that somehow managed to avoid outdated gender roles. Prince Harry was gifted by the same mystery person in Finland, according to Jezebel, a wristwatch, a book, a bottle of gin, a candle holder, a tin of biscuits, an ice hockey jersey and hat, two pin brooches, a box of fruit jellies, a Finnish flag, a Pram suit, a pair of mittens, a hat, and two fabric gnomes.
Side note: what are fabric gnomes? And what does one do with fabric gnomes?
Either way, some people are not happy about the apron:
And the criticism here is pretty warranted, right? For starters, it's sexist to assume that Markle enjoys whipping up meals in the kitchen or that she'll be cooking up a storm for Prince Harry once they get hitched (not that there's anything wrong with wanting to cook for your partner or being a homemaker, of course). Essentially, the biggest issue with the apron is what it assumes about Markle's role as a woman and wife.
Not to mention, the apron somewhat implies that Markle won't take on an active role in the royal family once she gets hitched to Prince Harry, a notion that is completely false.
Markle's future-sister-in-law, Kate Middleton, for example, is an outspoken advocate for countless charitable causes and women's issues, and she does a lot of work on behalf of the royal family. In fact, it's rare to see Middleton not working outside of the home, even when she's pregnant. And it's pretty much assumed that Markle will take on a similar role after she says "I do" to Prince Harry.
So, yeah. If you take these aforementioned points into consideration, the apron seems a bit problematic.
On the other hand, however, some people think the gift was a nod to Markle and Prince Harry's low-key engagement. Prince Harry did propose to Markle while they were roasting a chicken, after all.
Others also pointed out that Markle has been very vocal about how she is a "foodie":
And yes, it's true that Markle has a deep love for cooking and eating food. Markle even ran a now-defunct lifestyle blog, The Tig, in which she shared her favorite recipes with fans.
So, while Markle might be perfectly happy with the apron given her cooking background, one has to wonder why she didn't receive a stiff bottle of gin or a nice book to complement the gift. Anyways, here's to Finland stepping up its gift giving game in 2018.
Check out Romper's new video series, Romper's Doula Diaries:
Watch full episodes of Romper's Doula Diaries on Facebook Watch.