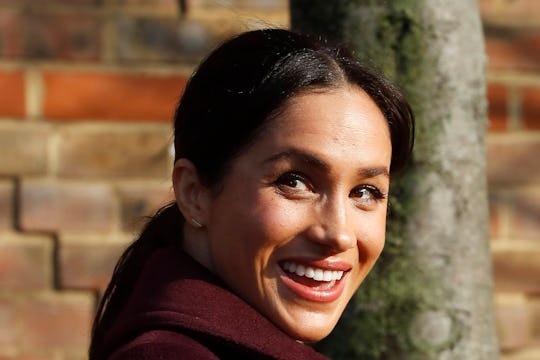 Chris Jackson/Getty Images Entertainment/Getty Images
You & Meghan Markle Probably Have The Same Bad Habits
The Duchess of Sussex is absolutely thriving in her new role as one of the classiest ladies in the British monarchy (I want to please note that she is tied for first place with her sister-in-law Kate Middleton). I think it's an especially tough role for Meghan Markle, who has been under pressure as an American without extensive knowledge of the persnickety rules of the royal family to hold things together. Which she has, and admirably. However, the good news is she isn't perfect. In fact to my way of thinking, Meghan Markle's bad habits are slightly more endearing than her many, many good ones.
The pregnant wife of Prince Harry hasn't exactly been screaming her bad habits from the balcony of Buckingham Palace, although let's take a quick pause to imagine how entertaining that would be. Markle hasn't actually said a word about her habits, bad or otherwise, since getting married in May. But it's important to remember that she had a very full life before becoming a duchess. She was an actress and an activist and... oh yes, that's right — she had a lifestyle blog called The Tig where she shared sweet little insights into her life.
Although the site was shut down once Markle got engaged to Prince Harry, according to Cosmopolitan, we're all still enjoying a deep dive back into the archives to see what Markle is really like.
And the good news is, she is pretty great.
So, are you ready to hear about some of the supposedly "unladylike" habits Markle was trying to kick for years? As she wrote on The Tig at the beginning of 2016 (also known as the year she met a prince and everything changed forever), as reported by The Telegraph, she was making a few New Year's resolutions:
Run a marathon. Stop biting my nails. Stop swearing. Re-learn French. These make my New Year's resolution list nearly (AKA actually every) single year. The swearing comes in lulls triggered by being overworked or feeling mighty cheeky after a couple drinks. And when it comes to the biting of the nails - well, it still happens with a turbulent flight or a stressful day. It's unladylike. But then again, so is the swearing. D*mmit.
I really love the idea that Markle might swear in the palace. Not in front of Queen Elizabeth, of course; the woman is 92 years old, she doesn't need that kind of shock in her life. But maybe she can swear in front of Prince Harry, Prince William, Kate Middleton, and for some reason I think Camilla Parker Bowles would laugh it off, too.
It's possible Markle has long since kicked her totally relatable habits, but she didn't seem too concerned about them back in 2016. As she wrote on The Tig, as reported by The Daily Express, "My nails will be fine, and if I toss out a four letter word once in a blue moon, well frankly I think it adds character."
I agree with Meghan Markle. I think this is exactly the reason she won't just survive life with the royal family, she'll most likely thrive. She seems very comfortable with the person she already is, bitten nails and all, d*mmit.