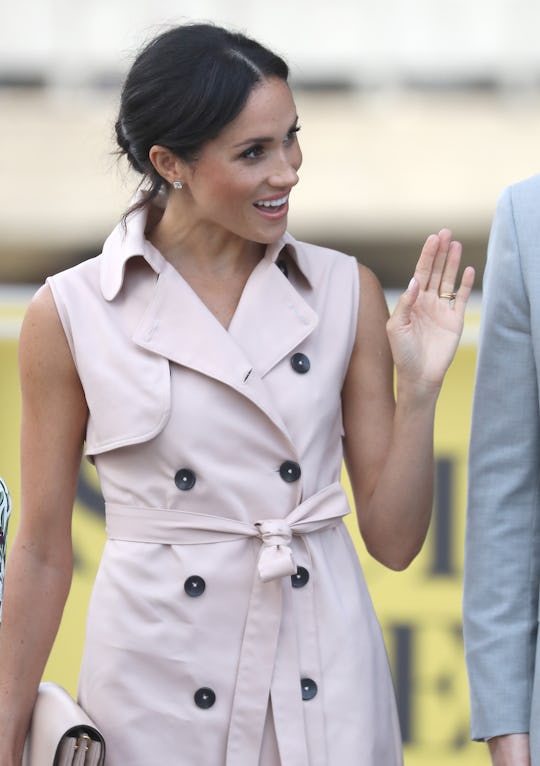 Chris Jackson/Getty Images Entertainment/Getty Images
Meghan Markle's Birthday Is This Weekend & PETA Gave Her An Incredible Gift
On Saturday, Aug. 4, The Duchess of Sussex, Meghan Markle, will observe her first birthday as a royal. To celebrate the duchess turning 37 this weekend, People for the Ethical Treatment of Animals, also known as PETA, sent Meghan Markle an ultra-stylish gift that is most certainly fit for a royal — especially one who is so socially conscious.
For Meghan's birthday, PETA gifted her a vegan leather handbag from Alexandra K, a luxury vegan fashion brand, Elle UK reported. "This bag suits Meghan Markle's fashion sensibility and animal-friendly attitudes to a T," Elisa Allen, PETA's director, said in a press release, according to Elle UK. "PETA hopes the gift will encourage the royal family and its fans alike to embrace compassionate brands like Alexandra K and to steer clear of cruelly obtained animal skins."
Alexandra K took to Instagram to share which bag Meghan received: the 1.6 Burgundy, a structured, oversized purse that retails for €329.00, which is about $382 USD. The purse is made from "Freedom-Leather," which Alexandra K's website explains is a highly durable, sustainable, and recyclable material made from silicone.
Additionally, Alexandra K shared her excitement over Meghan receiving one of her bags on Instagram. "Meghan Markle's first Birthday gift as a Royal is VEGAN! 💚" Alexandra K captioned a photo of the purse. "This bag suits Duchess Fashion sensibility and Animal friendly attitude💚♻️🐝." She also shared that she heard Meghan really liked the bag, explaining in the caption of another photo:
Omg you guys if someone told me Duchess Meghan would ever notice my bags I would laugh out loud in their face.. I can't believe she actually appreciates the bag and really liked it! thank you SO MUCH @Peta for sending it to the loveliest vegan lady, Meghan Markle, I suppose this is the most magical day in my life!
Even though Prince Harry, Duke of Sussex, proposed to Meghan while the two were roasting a chicken, Meghan has expressed her passion for ethically treating animals on multiple occasions in the past. For one thing, Meghan adopted two rescue dogs while living in Canada, W reported. Her dog Guy moved with her into Kensington Palace, but unfortunately, she had to leave her other dog, Bogart, behind in Toronto, reportedly in the care of some good friends.
In an October 2016 interview with Good Housekeeping, Meghan was asked if she was "married to the power suit," since she played a paralegal-turned-lawyer on Suits. She responded by sharing her love of vegan leather cropped pants:
My wardrobe for Suits isn't like Working Girl — dressing for work doesn't have to be so on-the-nose these days. The key is to have your own point of view attached to it. Personally, I love cropped pants in vegan leather, a great fitted blazer and a button-down.
In May 2016, Meghan opened up to Canadian magazine Best Health about her "clean" and mostly vegan diet. She told the outlet:
When I'm filming, I'm conscious of what I eat. I try to eat vegan during the week and then have a little bit more flexibility with what I dig into on the weekends. But at the same time, it's all about balance. Because I work out the way I do, I don't ever want to feel deprived. I feel that the second you do that is when you start to binge on things. It's not a diet; it's lifestyle eating.
Additionally, Meghan reportedly refuses to wear fur, according to The Independent. And in December 2017, rumors spread that Prince Harry was abstaining from his annual Boxing Day hunt because of Meghan's views on animal rights, Plant Based News reported.
The Alexandra K bag truly seems like a perfect gift for Meghan, and it will be interesting to see if she is spotted using it during a public outing sometime soon. Happy birthday, your highness!