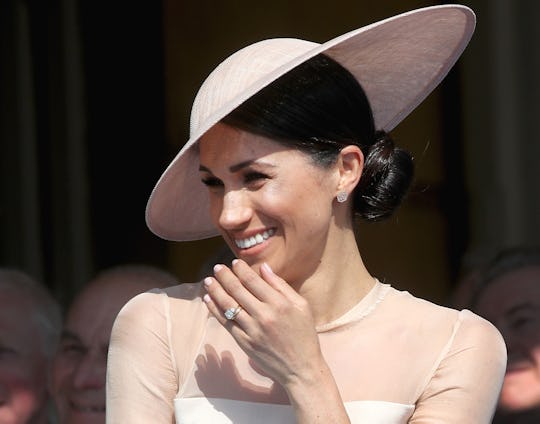 Chris Jackson/Getty Images Entertainment/Getty Images
Here's Why Meghan Markle's Coat Of Arms Breaks Royal Tradition In A Major Way
It's certainly not something brides often receive from their new in-laws, but when you marry into the British royal family, it turns out that you are given quite a unique gift: your very own coat of arms. Now that she is officially the Duchess of Sussex, Meghan Markle's coat of arms has been revealed, and, as you would expect, it's all very regal and impressive. But like Markle herself, the design actually has some important feminist elements. For one, the coat of arms has been given directly to Markle herself, instead of her father, who is traditionally the recipient, according to People. It also doesn't include her family name, and may also include a nod to her activism.
Kensington Palace shared the design in an official statement Friday, and from the sounds of it, Markle is continuing to shake things up now that she's officially a senior royal. The palace shared that Markle "worked closely with the College of Arms" to come up with the design, and though few things seem more "old school British monarchy" than coats of arms, the design still somehow manages to perfectly represent the royal family's newest member — even giving quite an obvious nod to her very untraditional American heritage.
Markle's shield, for one, features a blue background to represent the Pacific Ocean, while the golden rays are meant to symbolize the California sun (Markle was born and raised in Los Angeles). The design also included golden poppies on the grass beneath the shield, which represent California's state flower.
Supporting the shield is a "songbird with wings elevated as if flying and an open beak," which is the symbol chosen to represent Markle — along with the quills included on the blue background of the shield, the bird is meant to symbolize "the power of communication," which seems like a tribute to her work as an ambassador for the United Nations and World Vision. And for good measure, the bird is also wearing a coronet around its neck to represent her royal status (the symbol was "laid down by a Royal Warrant of 1917 for the sons and daughters of the Heir Apparent," according to the palace).
Though the coat of arms is a gift for Markle, the fact that she is now married to Prince Harry means that the design also incorporates his personal coat of arms, which was given to him by the queen when he turned 18. Specifically, Markle's coat of arms includes the lion from Prince Harry's crest as a supporter of the shield, along with his own shield design, which represents "the quartered arms of England, Scotland and Ireland," according to Hello!. Markle's coat of arms also includes a subtle connection to her adopted home with Prince Harry: wintersweet — a flower that grows at Kensington Palace — has been added in with the golden poppies.
Though it's not entirely surprising that Markle's coat of arms bucks tradition (Rev. Curry's highly unorthodox royal wedding sermon seemed to be pretty clear proof she's not afraid to do this her own way!), it's quite a far cry from the details of the coat of arms designed for Kate Middleton ahead of of her 2011 wedding to Prince William, and the updated coat of arms she received when she became Catherine, the Duchess of Cambridge.
For one, well, Middleton was actually given a coat of arms prior to her wedding — something that either wasn't offered to Markle, or something she chose not to have. But given the drama surrounding her father, Thomas Markle (only days before the wedding, he announced he would not be attending), it makes sense: Middleton's coat of arms was actually given to her father, Michael Middleton, according to Kensington Palace, which is all a bit patriarchal, and, well, sort of icky.
It actually took a while for the Duke and Duchess of Cambridge to get their own joint coat of arms though — according to The Telegraph, the queen gave the couple a "conjugal" coat of arms in September 2013, two years after they tied the knot. The duchess also doesn't appear to get her own supporter: while Markle's songbird is unique to her, both of the supporters on the Cambridges' coat of arms belong to Prince William (a lion and unicorn, representing England and Scotland, respectively).
Yet as much as Markle's coat of arms seems to be a big break from royal tradition, it's not actually the first time that royal coats of arms have deviated from protocol. Both Prince William and Prince Harry went against the grain by requesting that their crests include a symbol to represent their mother, Diana, Princess of Wales, according to Hello!, as they traditionally only reflect the father's side. But now, both princes — as well as their wives — have coats of arms that include "small, red escallops" on the lion's collars, which is a tribute to the Spencer family crest.
As strange a tradition as it may seem these days, the unveiling of the Duchess of Sussex's new coat of arms still feels like a pretty big deal. Not only does it solidify her new place in the British royal family, but it also reflects the ways in which she is already proving to be a modernizing influence on the monarchy. And it seems like it might only be the beginning of what's to come.