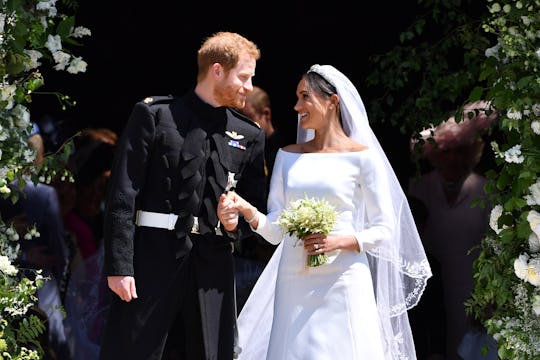 WPA Pool/Getty Images Entertainment/Getty Images
Meghan Markle's Dad's Response To The Royal Wedding Was Incredibly Sweet
There's been a lot of gossip and speculation about Meghan Markle's family in the weeks leading up to the Royal Wedding, but as anyone with even one relative knows, these things are complicated, and rarely what they seem on the surface. Though a very important family member couldn't make it to St George's Chapel to see his daughter get married, one thing we do know is that Meghan Markle's dad's response to the royal wedding was truly touching.
Thomas Markle told TMZ that watching the ceremony was "emotional and joyful." And, he said, "My baby looks beautiful and she looks very happy."
As a mom, that kills me. That's all we want for our kids, right? For them to be happy. Thomas also said, "I wish I were there and I wish them all my love and all happiness." Despite all the controversy leading up to his daughter's wedding, it sounds like his heart is really in the right place. Reports claimed that Meghan was "devastated" her father wasn't coming to the wedding, according to Elle, and had never thought to "disinvite" her father. On the contrary, she reportedly "desperately" wanted him there and was heartbroken to hear that he wouldn't be attending.
It's easy to cast blame when we only know a skewed version of events, but to hear how badly Meghan wanted her father there and then to hear how he had to watch his daughter's fairytale wedding on TV is truly heart breaking. As a parent, I just ache for both of them.
But Meghan's dad isn't the only relative of hers to comment on her royal wedding. According to the Daily Mail, Samantha Markle, Meghan's half-sister, reportedly held a "viewing party" in her Florida home for the wedding, but she didn't just invite her friends over so she could send her half-sister her well wishes. Instead, she reportedly invited in a television crew. But that's not all — the article reported that Samantha's partner said she was earning a five-figure sum for the television appearance.
You know, a very sisterly thing to do.
At the wedding, Meghan's only family member in attendance was her mother, Doria Ragland, but it didn't look like it phased the Duchess of Sussex too much. Instead, they both looked radiant sharing some moments together in the car before the ceremony, and Doria was openly emotional watching her daughter wed Prince Harry. While Meghan may have had Prince Charles, Prince of Wales walk her halfway down the aisle to her husband-to-be, Doria's presence there was still incredibly meaningful. To deal with all the family drama in the literal days leading up to her wedding, it must've been really wonderful for Meghan to know that her mom was always going to be there, backing her up, and loving her beautiful daughter.
Only time will tell if Meghan's father will make a trip across the pond to visit the newlyweds or if the drama of the last few days is too much. It's safe to assume that Meghan and her estranged half-sister Samantha won't exactly catch up over tea and crumpets at Kensington Palace, but that's usually how it goes when a family member tries to sell stories about you to media outlets. Regardless if her entire family was there or not, I hope Meghan felt the love the royal family has for her, for Harry, and for the family they are creating together. The way the royal family has welcomed Meghan into their lives is nothing short of perfection, and even Prince Charles reached out to Doria for her hand as they followed the couple to sign the register. While it hurts that her dad wasn't there, Meghan should feel supported and cared for — especially with an entire world of us backing her up.