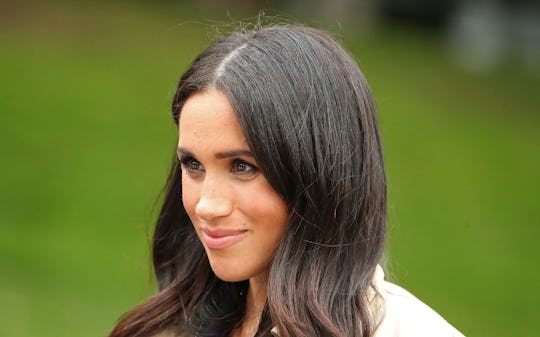 Scott Barbour/Getty Images Entertainment/Getty Images
Meghan Markle's Due Date Could Fall On A Number Of Special Days For The Royal Family
The Duke and Duchess of Sussex delighted their supporters on Monday when they announced that they're expecting their first child, according to People. Making matters even more thrilling? Meghan Markle's due date could land on a number of memorable days for the royal family.
Prince Harry and Markle have never shied away from the fact they wanted kids sooner than later. "I've longed for kids since I was very, very young, I'm waiting to find the right person," the Duke of Sussex said in 2012, according to the Daily Mail. "Someone who is willing to take on the job."
Markle shared Prince Harry's desire to be parent, telling Lifestyle magazine, according to Us Weekly: "I also dream to have a family."
Luckily for the Duke and Duchess of Sussex, their shared dream came true shortly after their May wedding. "Their Royal Highnesses The Duke and Duchess of Sussex are very pleased to announce that The Duchess of Sussex is expecting a baby in the Spring of 2019," a statement from Kensington Palace read, according to CBS News.
Considering Markle is due sometime in the spring, it's fun to consider if her delivery date will coincide with other special occasions in the royal family. That being said, here are all of the memorable events that the royal family celebrates in the spring.
Princess Eugenie's Birthday: March 23
Although this event is on the earlier side of things, Prince Eugenie's March 23 birthday falls three days after the official start of spring 2019. It would be incredibly cute if the Duke and Duchess Sussex welcome their kid on this date as they first celebrated their pregnancy news with family members at Princess Eugenie's Oct. 12 wedding, according to Harper's Bazaar.
Queen Elizabeth II's Birthday: April 21
The Queen doesn't share a birthday with any of her great-grandchildren or grandkids yet, so it would be special if Markle delivers the baby on April 21.
Prince Louis' Birthday: April 23
If Markle delivers the couple's baby on April 23, their child and Prince Louis will be exactly one year apart in age. Cool, right?
Princess Charlotte's Birthday: May 2
Although I have a feeling spunky Princess Charlotte wouldn't particularly enjoy sharing a birthday, there's a chance the next royal baby will make its debut on May 2.
The Duke and Duchess Of Sussex's Anniversary: May 19
How cute would it be if the baby was born on the couple's May 19 wedding anniversary? It's almost too perfect.
Prince Phillip's Birthday: June 10
If the baby is born in late spring, they could share a birthday with Prince Philip, Duke of Edinburgh.
Prince William's Birthday: June 21
The last day of spring falls on June 21, so there's a possibility — a small one — that the baby will make its debut on Prince William's special day. You never know.
No matter what happens, I think it's safe to say the new royal baby will have a great birthday. The spring is a fun time to be born, and the season is particularly important to the royal family.