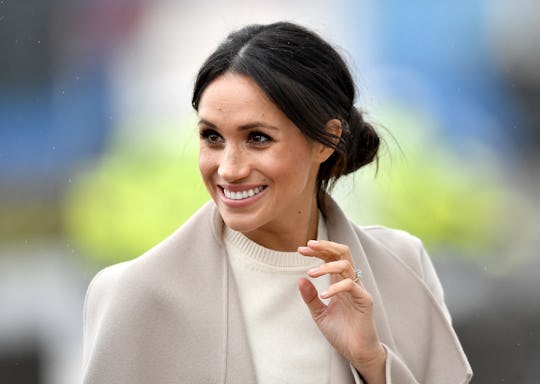 Charles McQuillan/Getty Images Entertainment/Getty Images
Meghan Markle's Family Members Didn't Get Invited To Her Wedding, & It Proves Weddings Are Never Not Awkward
Following the news on Thursday that Meghan Markle sent out her wedding invitations, many people expressed curiosity about whether she invited all of her family members to the big event. It's a valid question because as some fans might already know, Markle isn't on the best of terms with a few of her extended family members. So, did Markle snub any relatives? As it turns out, two of Meghan Markle's family members didn't get invited to her wedding. And Markle's decision is proof that weddings can be incredibly awkward and uncomfortable.
Wedding planning can be quite stressful, especially if you're figuring out your special day in the public eye. Case in point: Markle's former sister-in-law and nephew took to Good Morning Britain on Monday to discuss her big day, even though the two probably aren't welcome at her May 19 ceremony. Awkward much?
Although it's unclear why Markle's nephew, Tyler Dooley, decided to chat with Good Morning Britain about her upcoming nuptials to Prince Harry, one thing is obvious — he thinks he deserves an invite to her wedding.
After Dooley admitted that he has yet to receive one of Markle's gilded invites in the mail, he argued, according to Entertainment Tonight: "We've been here from the very beginning. I mean, her whole life, just always rooting her on and supporting her."
Tracy, who was once married to Markle's half-brother, Thomas Markle Jr., approached the situation with more doubt. "Chances are, I don't think that we are going to get the invitations, and that's just — that's fine, we're OK with that," Tracy said, according to Us Weekly. "But we're supporting her on and just having a good time, so proud of her."
Of course, it's probably important to note here that both Dooley and Tracy admitted to being on the outs with Markle upon further questioning. Dooley hasn't chatted with Markle in three years, according to E! Online, while Tracy has racked up 20 years of silence.
And in an incredibly awkward twist during the interview, British journalist Richard Madeley confronted Dooley and Tracy about this glaring truth, asking, according to Elite Daily: "Well, then, it doesn't seen unreasonable for you not to be invited, does it? I mean, if it's 20 years, you're pretty much on the fringes, aren't you, of the family, to be honest?"
Following Madeley's mic drop moment, many people took to Twitter to agree with his take on the situation.
So, let this be a lesson to any person who feels conflicted about inviting their estranged relative to their wedding: you don't have to do it. And if you get any flak about your decision, channel your inner-Madeley and tell them what's up.
As for the family members Markle *did* invite to the ceremony, Tracy claims her dad, Tom Markle, will walk her down the aisle.
"I've heard that he's going to be over there and I'm sure that he will be giving her away," Tracy said, according to Yahoo. "The arrangements are being made … from me talking to him, he's very excited to be a part of it."
Obviously, this bit of info is coming from a woman who hasn't spoken to Markle in 20 years, so take this revelation with a grain of salt.
That being said, a supposed family friend "confirmed" that Thomas will leave his "reclusive" life in Mexico in order to attend Markle's wedding.
The insider claimed, according to Vanity Fair:
Thomas Sr. is overjoyed to be beside his little girl on the day she becomes a princess — even if he has to battle his demons to get there.
Of course, it's up to Markle at the end of the day whether she wants her family to attend the wedding. No matter how awkward or uncomfortable things might get, it's ultimately her decision. Stay strong, girl.
Check out Romper's new video series, Bearing The Motherload, where disagreeing parents from different sides of an issue sit down with a mediator and talk about how to support (and not judge) each other's parenting perspectives. New episodes air Mondays on Facebook.