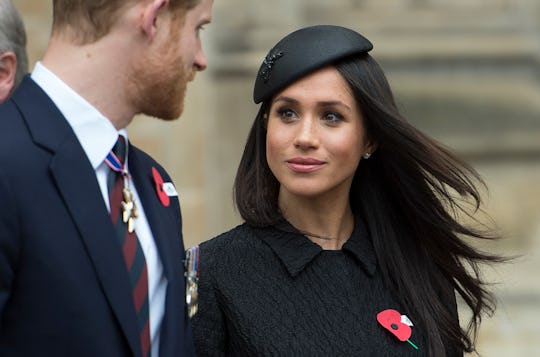 WPA Pool/Getty Images Entertainment/Getty Images
You Need To See Meghan Markle's Feminist Speeches
Meghan Markle often gets a bad wrap with the media and random people on social media. Ever since she and Prince Harry announced their engagement, she's often described as a "divorced, American actress." All things that are true. But Markle is so much more than that, especially when it comes to standing up for women's rights. In case you don't believe me, allow me to present you with a handful of Meghan Markles's feminist speeches that she's given all over the world. Including the United Nations.
Luckily, this is 2018, so getting married to Prince Harry doesn't mean that she has to spend all of her time picking out china patterns and giving up her advocacy work (unless she wants to, of course). Markle said at an event with Harry, Prince William, and Kate Middleton that she was planning on keeping busy with issues that affect women.
"I think right now in the climate we are seeing so many campaigns, I mean #MeToo and Time's Up, and there is no better time to really continue to shine a light on women feeling empowered, and people really helping to support them — men included." She added, "I guess we wait a couple of months and we can hit the ground running."
So if you thought she was going to be chilling in a palace eating little cucumber sandwiches all day, think again. Markle plans on using her platform, as always. Here are some of her feminist speeches from the past so you know what to expect.
At The United Nations In 2015
This is the one in which Markle talks about being an activist at 11 years old.
When She Was Interviewed For Changing A Commercial
Can you believe they changed the commercial?
At Create & Cultivate In 2016
It's kind of long, but this is a highlight:
You don't have to play dress up to be a feminist. You are a feminist exactly the way you are. You can be a woman who wants to look good and still stand up for the equality of women. There's no uniform for feminism; You are a feminist exactly the way you are.
In London In 2017
This is the same even where she pledged to keep working on advocating for women. But Markle also said this and it's so important:
What's interesting is, I hear a lot of people — when speaking about girls and women empowerment — you'll often hear people say, "well, you're helping women finding their voices and I fundamentally disagree with that. Women don't need to find a voice, they have a voice, and they need to feel empowered to use it, and people need to be encouraged to listen.
Markle will likely be giving many, many more speeches once she's officially a royal and women of the world can rest assured that she'll likely be a force for good. Of course, being a royal means having to mind what Kensington Palace wants from you, but Queen Elizabeth is as much as feminist as Markle in a way. It will be really fun and satisfying to see what Markle does going forward, despite her haters. She said of her impending marriage, according to Glamour that she tries to ignore the negativity:
It's a shame that that is the climate in this world, to focus that much on that, to be discriminatory in that sense. I think, you know, at the end of the day, I'm really just proud of who I am and where I've come from and we have never put any focus on that. We've just focused on who we are as a couple. And so when you take all those extra layers away and all of that noise, I think it makes it really easy to just enjoy being together.
Markle added, again according to Glamour, that she's looking forward to leveraging her platform. "With fame comes opportunity, but it also includes responsibility — to advocate and share, to focus less on glass slippers and more on pushing through glass ceilings. And, if I'm lucky enough, to inspire," she said. Let's hope so.
Check out Romper's new video series, Bearing The Motherload, where disagreeing parents from different sides of an issue sit down with a mediator and talk about how to support (and not judge) each other's parenting perspectives. New episodes air Mondays on Facebook.