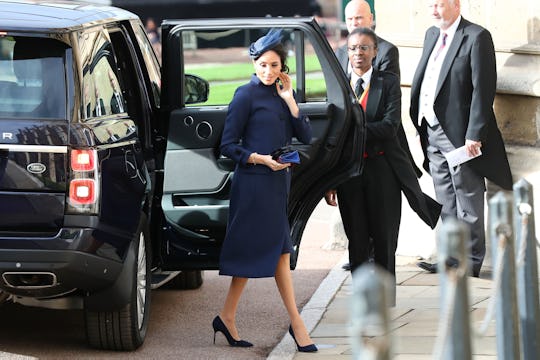 WPA Pool/Getty Images Entertainment/Getty Images
Meghan Markle's Message To Eugenie On Her Wedding Day Should Be About Solidarity
There's nothing like a royal wedding, right? Especially when we had to live through seven entire years without one; before Meghan Markle married Prince Harry in May 2018, the last televised royal wedding was Kate Middleton and Prince William all the way back in 2011. And now, in this blessed year, we get to enjoy not just one but two. Which has me sort of wondering how this year's first royal bride is feeling about the latest royal wedding? Does she have any tips to offer? I certainly hope so. Because Meghan Markle's message to Eugenie on her wedding day would be especially helpful, considering she recently went through the entire shebang herself.
Princess Eugenie, the youngest daughter of Prince Andrew, Duke of York and Sarah, Duchess of York, married her boyfriend of seven years, Jack Brooksbank, at St. George's Chapel at Windsor Castle on Friday — the same spot where Meghan Markle married Prince Harry in May to become the Duchess of Sussex. While she and her husband are gearing up to head out for their first official overseas trip to Australia next week (meaning they probably won't be up for the second day of wedding celebrations Princess Eugenie and Brooksbank have planned), she must be feeling pretty sentimental entering that church after her own wedding earlier this year.
Things are slightly different for Princess Eugenie on her wedding day, of course. In her case, she is a member of the royal family but does not have any official duties, unlike Prince Harry and Meghan Markle. And apparently all of the attention focused on the new couple has made things easier for Eugenie, as wedding dress designer Sassi Holford (who was not Princess Eugenie's dress designer, but has knowledge of the royal family) told Yahoo's The Royal Box:
She's been able to get on and plan her wedding with the limelight somewhere else [with Meghan and Harry]. So I think she's probably used that to her advantage.
Certainly it did seem as though Markle was getting loads of attention when she arrived with her husband at Princess Eugenie's wedding on Friday. The crowd went wild; not that she had much of a chance to hear it. She and Prince Harry pretty much ran into the church from their car.
The Duchess of Sussex wore a gorgeous navy Givenchy dress and matching fascinator, and Prince Harry wore a coordinating vest under his morning suit. While neither of them said anything publicly, here's the message I think Markle's understated dress and comparatively small fascinator sent to Princess Eugenie; this is your day. We are here to celebrate you, not to take attention away from you.
Hence the mad dash to get inside the church.
I know there was some talk ahead of the wedding about both Markle and her sister-in-law, Kate Middleton, trying to avoid upstaging the bride. Which sounds slightly arrogant, but I think I get it. I think both women recognize they had their own wedding day, enjoyed it, and want Princess Eugenie to have the same experience.
Which is a pretty powerful message, when you think about it.