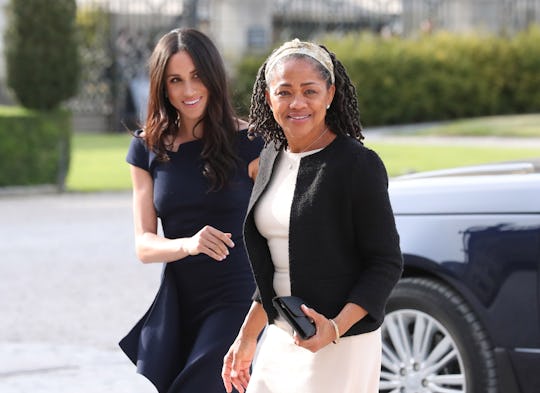 WPA Pool/Getty Images Entertainment/Getty Images
Meghan Markle's Mom Played A *Major* Role At The Royal Wedding & That Means A Lot To Me As A Single Parent
When American actress/philanthropist Meghan Markle married Prince Harry on May 19, she was originally expected to be walked down the aisle at St. George's Chapel in Windsor Castle by her father, Thomas Markle. Kensington Palace confirmed this detail, along with dozens of other small pieces of the day. The cake the bride chose, her dress, bridal party, bouquet... and the role her mother was expected to play. This was the moment for me, the thing that truly won me over with the new princess. Because Meghan Markle's mom's role at the wedding means so much to me, as a fellow single mother who often worries about being forgotten.
It was a small thing on the day of the wedding, and people who aren't all that familiar with the ways of the British monarchy probably didn't notice a single little thing. Doria Ragland flew in nine days ahead of the wedding to officially meet her new in-laws, also known as the Queen of England herself, her offspring, and even my personal favorite, Kate Middleton. Ragland stayed with her daughter and Prince Harry, who she had already met last year at the Invictus Games in Toronto, Canada, at Kensington Palace.
There have been all of these stories about Meghan Markle breaking royal rules with her wedding, from her cake choice to her bridal bouquet and beyond. But here is the one change that she made that held real significance, at least to me; the bride was delivered to her wedding in a vintage Rolls Royce, sitting beside her mom.
Royal brides, including Markle's new sister-in-law Kate Middleton, have generally traveled to their wedding site with their father beside him. But here's why Meghan might have wanted to do things differently: unlike other royal brides in the past, her parents divorced by the time she was 6 years old, and her mother raised her on her own, according to The Sun. Her father was still involved, but Markle has been open about her particular closeness to her mom over the years. The actress has called her mother a "free-spirited clinical therapist," and she had this to say about Ragland to Glamour in August:
We can just have so much fun together, and yet I'll still find so much solace in her support. That duality coexists the same way it would in a best friend.
There's something about the nature of traditional weddings that sort of erases a mother's touch. The father tends to walk the daughter down the aisle to "give" her away to her husband, an exchange of goods that never ceases to make me a little queasy.
But there's something more than that. A wedding feels like a symbolic shift from childhood to adulthood. A special time for a parent to say goodbye to the child their raised, I suppose, and welcome the grown-up they've become. And when that child has been raised primarily by their mother, as is increasingly the case, what is her role meant to be? When my sons marry some day, for instance, will I be the one to give the toast? Will I deliver a speech welcoming my son's partner into our family, or will our family be defined by someone else? Will I be as invisible and forgotten as a guest who accidentally made it on the list?
This is what is just so lovely about Meghan Markle's purposeful, determined inclusion of Doria Ragland on her wedding day. She might not have said the words outright, but her mother's important role suggests that she understands something about moms, single moms perhaps especially.
That raising kids to be thoughtful, present, compassionate people is a life's goal. And perhaps it deserves a type of recognition our society doesn't always readily offer to mothers on their child's wedding day.
A moment of quiet, of reflection, of deliberate inclusion to show guests without words that their work has not gone unnoticed.
And I suppose a ride in a glass carriage to meet the Queen wouldn't be the worst idea either.
If ever I wondered about Meghan Markle, the newest princess in the British monarchy, I wonder no more. This girl is loyal deep down in her bones, and you can't say better than that about anyone in this world.