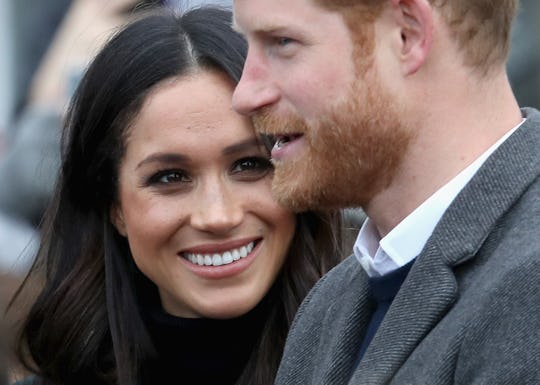 Chris Jackson/Getty Images Entertainment/Getty Images
People Are Loving This Honest Post Meghan Markle Wrote When She Was Single On Valentine's Day
Meghan Markle is probably having a pretty fabulous Valentine's Day this year. She's engaged to marry Prince Harry this spring, and all signs point to him being a real sweetheart, prince or no. She seems head-over-heels in love and she's getting a fairly impressive new family thrown in as part of the bargain. But this isn't how Valentine's Day always looked for the Suits actress, and you know what? She was good with being single. Markle's post about Valentine's Day as a single woman from three years ago is being shared on social media three years this V-Day as something of a barometer for how to find joy in who you are at the moment. And naturally, everyone is loving it.
Back in 2015, Markle was still the curator of her lifestyle website, The Tig. While she might be spending Valentine's Day this year traveling through romantic Scotland with her future husband (and about a million photographers) in tow, that year she was a single girl. She was enjoying her work on the show Suits and the female friendships that went along with that, and she was a big fan of love, in general — the romantic kind of love, the girlfriend kind of love, and according to a blog post she shared on her former lifestyle site, self-love especially.
Markle wrote in her 2015 blog post: "Hook, line and sinker, I am such a sucker for Valentine's Day." And while she noted that she is a fan of love — "I think you need to be your own Valentine" — she shared a story about how two of her good friends from Suits, fellow actresses Gina Torres and Sarah Rafferty helped get her out of a "funk" when she wasn't showing herself a whole lot of self-love:
One of them stopped me — truth be told I can't remember which one because they both impart their sage wisdom with me on the daily — but one of the stylish wise ones stopped me and said, 'Hey! That's my friend you're talking about. Be nice to her.' They were protecting me from myself. From my own criticism, and my own self doubt. They were reminding me to treat myself as well as I treat those closest to me. To be my own valentine.
Several media sites have shared Markle's post from 2015, to give a sense of the sort of happy, confident woman she was even when she was single.
So what was Markle planning to do to celebrate a little self-love that Valentine's Day? As she wrote in her post:
This Valentine's Day I will be with friends, running amock through the streets of New York, likely imbibing some cocktail that's oddly pink, and jumping over icy mounds in my new shoes through the salted snowy streets of the West Village.
Markle sounds like my kind of woman. Someone who treasures not only her female friendships but herself; someone who hasn't sold herself that old fairy tale that starts and ends with romantic love. Which is especially great considering she's living something of a fairy tale now herself — marrying a prince who romanced her by sweeping her off to sleep under the stars in Africa, getting married in May at an actual castle (St. George's chapel outside Windsor Castle, to be exact). I mean, she's even going to have Ed Sheeran perform "Perfect" at her wedding. It's pretty spectacular.
But here is what I find truly spectacular about Markle: she's her own woman. She had a career before meeting Harry, had (and has) valuable friendships and ambitions and her own way of looking at the world. She loves herself, loves her life, and wasn't looking to be swept off her feet by a prince.
The fact that it did, indeed, happen feels like just another chapter of the story of her life. Another adventure she just seems ready to embrace with open arms as the full, independent person she is.
Check out Romper's new video series, Bearing The Motherload, where disagreeing parents from different sides of an issue sit down with a mediator and talk about how to support (and not judge) each other's parenting perspectives. New episodes air Mondays on Facebook.