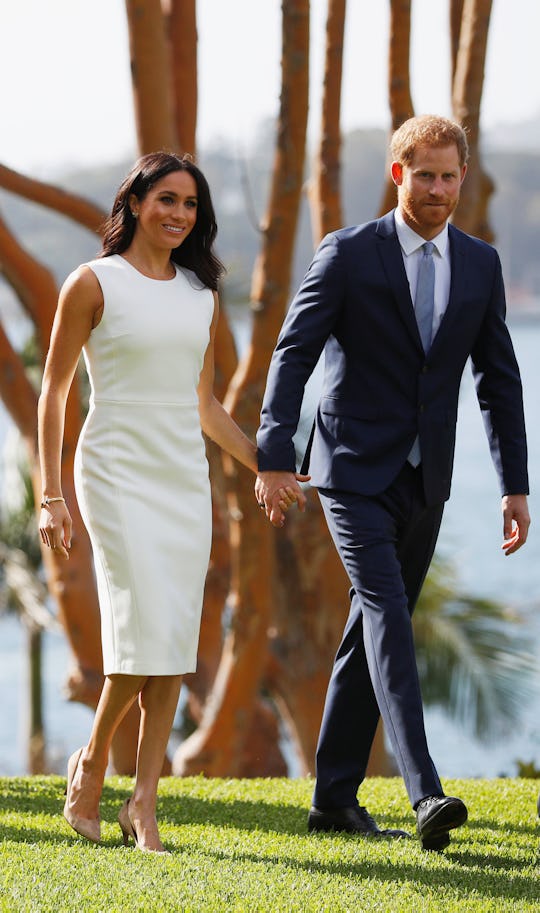 Pool/Getty Images Entertainment/Getty Images
Prince Harry & Meghan Markle Received The Cutest Gift For Their Baby
Fans of the royal family across the globe collectively lost their minds when news broke that Prince Harry and his wife, Meghan Markle, are now expecting their first child. Given the love that surrounds the couple and their coming little one, it isn't surprising that they are already being showered with presents. And Meghan Markle's reaction after receiving her first baby gift shows just how excited she is to become a mother.
On Monday, according to People, Prince Harry and Markle were attending a welcome reception at Admiralty House in Sydney, Australia when the Governor General Peter Cosgrove and his wife, Lady Lynne Cosgrove presented them with the first of what I am sure will be many gifts for their new addition to the family. When Markle was handed the gift, which contained a stuffed kangaroo and baby joey toy and a pair of tiny fleece Ugg booties, she exclaimed, "That's so cute, it's out first baby gift!" according to People.
Along with the stuffed animal and booties, Prince Harry and Markle also received a children's book from an Australian fan of the family, Abbey van Vurren, according to ABC News. Markle was also excited by that gift. "This is the first book we've been given for the baby," she said, as MSN reported. The stop in Sydney was a part of the couple's royal tour of the country, ABC News reported.
Their visit down under comes in the wake of the announcement that another royal baby is on the way. Kensington Palace released a statement on Monday announcing the pregnancy. Along with explaining that Markle is due in the spring of 2019, the announcement also shared how the couple feels about the public's response to their big news:
Their Royal Highnesses have appreciated all of the support they have received from people around the world since their wedding in May and are delighted to be able to share this happy news with the public.
That support reaches as far as Australia, it seems. Aside from receiving gifts from families during their royal tour, Prince Harry and Markle also made some furry friends at the Taronga Zoo on Tuesday. While there, they were introduced to two adorable koalas, Ruby and Wattle, who recently had a pair of joeys as a result of the zoo's breeding program. As a gift to the happy couple, the zoo named the two little koalas Harry and Meghan, according to ABC News. Perhaps their baby will pass on his or her name to a wallaby or some other adorable critter down the line.
Prince Harry and Markle are receiving plenty of support and well wishes closer to home, too. Following their big announcement, Kensington Palace shared that Prince William and Kate Middleton are "delighted" by the news of another royal baby. The Queen, as well as Markle's mother Doria Ragland, have congratulated the pair on their journey into parenthood.
On Tuesday, Prince Harry and Markle moved from Sydney to Dubbo, Australia in New South Wales, according to People. They will spend a total of six days touring around Australia, Fiji, Tonga, and New Zealand. They will then return to Melbourne, Victoria, Australia in time for the Invictus Games. The games are a Paralympic type event of Prince Harry's creation that serve wounded or injured service members; they run from Oct. 20 to Oct. 27 and draw quite the crowd. This year's games will begin with a golf tee-off and include 29 competitors from eight nations.
Prince Harry and Markle are eager to incorporate a child into their busy lives and have spoken publicly numerous times about their dreams of becoming parents. World travel, numerous loving family members, and personal relationships with cute little koalas — this baby has quite the life waiting for him or her.