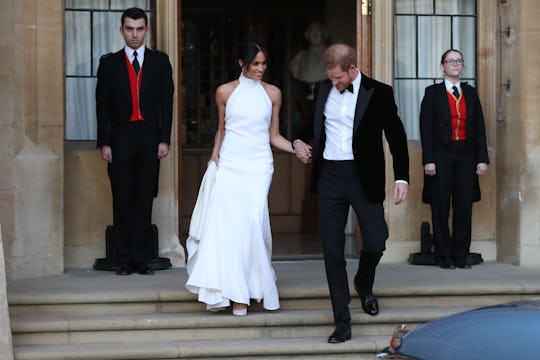 WPA Pool/Getty Images Entertainment/Getty Images
Meghan Markle's Second Wedding Look Honored Princess Diana With *This* Small Detail
The royal wedding ceremony between Prince Harry and American actress Meghan Markle on Saturday afternoon at St. George's Chapel was a huge and gorgeous affair, paying tribute to the family that she came from and the family that she was marrying in to. This included tributes to Prince Harry's late mother, Princess Diana. But after Prince Harry and Markle's vows were said and exchanged, the couple still had some more celebrating to do at private after party later in the evening (where they could finally have fun and let loose). After honoring her husband's late mother during the wedding in small ways, Markle's second wedding look honored Princess Diana in another subtle way that will make you fall in love with the newly titled Duchess of Sussex even more.
When Markle and Prince Harry made their way to Frogmore House on Saturday evening, you could tell that the couple was ready to celebrate the night away at their last and final (and smaller) wedding reception of the evening, according to People. This appearance was the first time that anyone had seen the couple since they took a carriage ride around the town of Windsor — and it certainly did not disappoint. Markle's second dress, a wedding white halter neck gown designed by Stella McCartney, according to Vogue, was a more laid back (yet still so put together) choice from the Givenchy wedding dress she wore earlier in the day, according to People. And you couldn't deny Prince Harry looked ready to party in his tuxedo after changing out of his military regalia that he wore to the wedding ceremony.
By just looking at Markle, you wouldn't be able to tell that this second wedding look honored her husband's late mother, but it did. Markle wore an aquamarine ring from Princess Diana's jewelry collection with her party outfit, according to Town & Country, paying tribute to her late mother-in-law. How's that for "something blue"?
The ring, according to People, was worn by Diana during two separate events in 1996 and 1997, and has a matching aquamarine bracelet to go with it. Prince Harry's gift to Markle isn't out of the ordinary — it is tradition for royal grooms to gift their brides jewelry on their big day, according to Town & Country. When Prince Philip married Queen Elizabeth, he gave her a bracelet made out of stones from his mom's tiara. And when Prince Harry's brother, Prince William, married Kate Middleton in 2011, he gave her a pair of his mom's diamond refashioned from her collection, according to Town & Country.
There was another personal touch in the couple's second look, according to Town & Country. The couple took off for the second wedding reception in a baby blue vintage Jaguar convertible with a license plate that had the date of their wedding as its license plate number, according to Town & Country. Because just when you thought they couldn't get any cooler, they did with their sweet looking ride.
Although Princess Diana died in 1997, almost 20 years before her youngest son made it down the aisle, according to the Washington Post, she was still at his wedding in spirit. Princess Diana's favorite flowers were incorporated into the wedding ceremony, according to Vanity Fair. White peonies and white roses adorned St. George's Chapel while Markle's bouquet incorporated forget-me-nots, another favorite flower of Princess Diana's, reportedly handpicked from Kensington Palace, according to Vanity Fair. During the ceremony, according to Express, wedding guests sang "Guide Me, O Thy Great Redeemer," — a hymn that was a favorite of Princess Diana's and was sang during her funeral.
All of the tributes paid to Princess Diana during the royal wedding were very subtle, but so poignant. By gifting Markle a ring of his mother's, Prince Harry's final tribute of the evening proved that Princess Diana's memory would still live on in his new life as a married man.