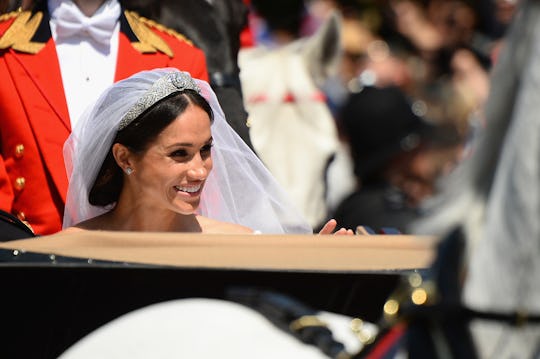 Eamonn M. McCormack/Getty Images Entertainment/Getty Images
Wearing "Something Blue" Is A Wedding Tradition, But Where Was Meghan Markle's?
Something old, something new, something borrowed, something blue. Sure, it's a cliché at this point, but there's no harm in incorporating the superstition into your wedding day. Fans of the royal family are undoubtedly wondering if Meghan Markle is honoring the tradition, especially since it dates back to 19th century England. Most importantly, fans want to know about the most difficult thing on the list: What is Meghan Markle's "something blue" at the royal wedding?
UPDATE: When Markle stepped out with her husband in her second bridal look of the day, her "something blue" became clear — rather, both of them did. The first could be found on the soles of her custom-made white shoes, which had been painted baby blue, reported People. The second was on her right hand — she wore a gorgeous aquamarine ring that Diana, Princess of Wales once wore, People added.
PREVIOUSLY: It's still unclear exactly what Markle's something blue is, but there are a few theories. Catherine Middleton, Duchess of Cambridge wore the same sapphire engagement ring that Diana, Princess of Wales wore, covering the something blue for both of them. (Additionally, both women had small blue ribbons sewed into their gowns for good measure, reported Harper's Bazaar.)
Markle's rings were both yellow gold, and sans sapphire, so she must have covered her something blue somewhere else.
Additionally, her dress, veil, bouquet, tiara, and other jewlery all seemed to be free of blue. Perhaps her new husband took care of the something blue for her, considering Prince Harry wore the "frockcoat uniform of the Blues and Royals," reported the official royal website. Sure, the uniform is black, but it has blue in the name, plus a tiny bit of blue in one of his pins.
In terms of something old, her left hand features two diamonds that once belonged to Prince Harry's late mother, Diana, Princess of Wales. (Kate Middleton, Duchess of Cambridge, wore Princess Diana's original engagement ring, which features a large blue sapphire stone in the middle, thus having covered her in both the old and the blue department.)
Something new is always easy to check off the list — thanks, wedding dress! And considering Markle reportedly plans to wear two wedding dresses, she's clearly covered in that department.
Next up is something borrowed, which appears to be Markle's tiara. "The veil is held in place by Queen Mary's diamond bandeau tiara, lent to Ms. Markle by The Queen," Kensington Palace tweeted Saturday morning. "The diamond bandeau is English and was made in 1932, with the entre brooch dating from 1893."
Both Catherine, Duchess of Cambridge, and Diana, Princess of Wales sported tiaras on their wedding days, reported WWD, so it's no surprise that Markle has as well. Middleton wore The Cartier Halo Scroll Tiara at her wedding, which George VI commissioned Cartier to make for his wife, The Queen Mother, back in 1936, reported Tatler. The Queen Mother later gave it to her daughter, Queen Elizabeth II, for her 18th birthday. Since then, she has lent it to both her sister Princess Margaret, daughter Princess Anne, Princess Royal and Middleton, Tatler reported.
So how exactly did the whole "something old, something new, something borrowed, something blue" tradition get started? As far as experts have discovered, the oldest written reference to the adage was in an issue of St. James Magazine back in 1871, reported Insider. It's unlikely that this article is where the phrase originated, because in said article, the author lamented that finding something blue was extremely difficult. He wrote: "Honi soi qui mal y pense."
The French phrase translates to "may he be shamed who thinks badly of it," according to the Oxford English Dictionary. It is also known as the motto of the Order of the Garter, as noted on the official royal website. The Order of the Garter is a group that King Edward III founded during medieval times, comprised of knights who enjoyed practicing chivalry, the royal website explained. The group still exists today, and it is made up of both male and female members who are involved in public service, including the Queen. It's unclear exactly what the Order of the Garter's motto has to do with the something blue at a wedding, but it's certainly interesting to see the 19th-century connection between the tradition and the royal family.
More to come...