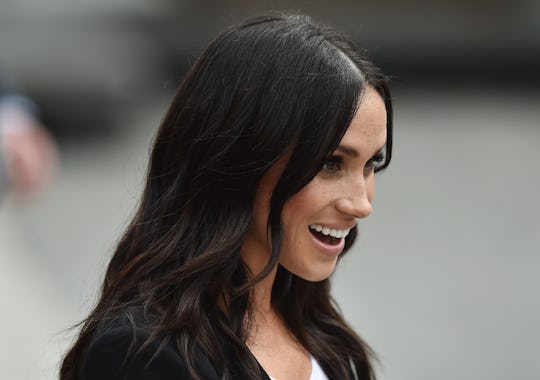 Charles McQuillan/Getty Images Entertainment/Getty Images
Meghan Markle's "Wardrobe Malfunction" Goes To Show That, Yup, Royals Are Humans Too
Meghan Markle's life looks very different now that she's married to Prince Harry. The former Suits actress is now the Duchess of Sussex, first of all. She lives at Kensington Palace and has to go to a whole bunch of functions so that people can look at her, which sounds fun and terrifying all at the same time. But perhaps the biggest change of all is that I don't think she can just be seen as a person anymore. When she and Prince Harry attended a wedding on Saturday, Meghan Markle reportedly had a "wardrobe malfunction" that got a whole bunch of media attention. Because apparently the fact that she wears a bra as a grown human woman is not something that can be known?
Now to be clear here, it wasn't the royal family who openly decreed that it was some sort of unforgivable faux pas for Markle to accidentally show a mere glimpse of her bra (while she was waving at fans on her birthday, which feels extra unfair to me) in public. It was actually the media. The Daily Mail initially reported this so-called wardrobe malfunction, which I believe I am also guilty of committing as I sit here typing. Other media outlets piled on with the shocking bit of news and also tastefully exposed lace.
One even used the words "suffers wardrobe malfunction" to really drive the point home.
This isn't the first time Markle has come under fire for doing the most human of things; one time she crossed her legs when she wasn't supposed to and everybody lost their damn minds. Because she was supposed to do this thing called "the Duchess slant," as reported by Harper's Bazaar, where you slant your body awkwardly and maybe cross your ankles instead of your knees.
I think it's time the general public and the media stop pretending that it's the royal family putting all the pressure on Markle to follow royal protocol. After all, does anyone remember her wedding on May 19 at St. George's Chapel in Windsor Castle? She changed quite a few things, like the flavor of her wedding cake and, more importantly, walking her own damn self down the aisle like a grown woman, according to ELLE, and Queen Elizabeth herself has had nothing but smiles to offer the new Duchess of Sussex.
Her father-in-law and heir to the throne Prince Charles, according to Glamour, reportedly has such affection for his new daughter-in-law that he has a pretty cute nickname for her: Tungsten. It's a kind of strong and unbending metal, and it's a tribute to his admiration for Markle, as noted by Glamour.
Of course, I have no way of knowing what goes on behind the closed doors at Buckingham Palace. But I can tell you this: ever since Meghan Markle became the Duchess of Sussex, people seem to criticize her a lot more. Before she was married, Markle had a life. She ran a lifestyle blog, had friends and a career. She's hailed as a strong feminist (which she still proudly is, for the record), a woman who practiced yoga most of her life. A lover of dogs. And an eater of raspberries.
I like to think in 2018 a woman can still be all of these things and be married to a prince. That she can be respectful of tradition while remaining true to herself. That she can still be a human being, fallable and fun and silly, while living in a palace.
I even think it's OK for her to wear a bra, and for people to know she wears a bra. But maybe I'm just dreaming.