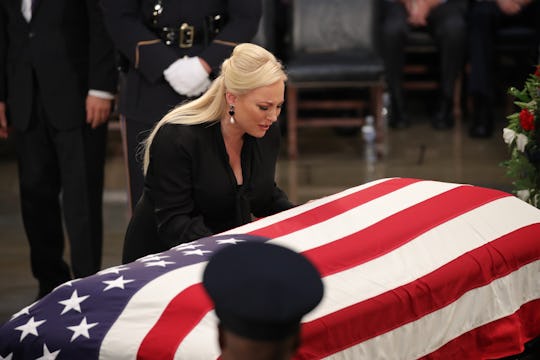 Drew Angerer/Getty Images News/Getty Images
Meghan McCain Gave The Most Beautiful Speech At Her Father's Funeral
Meghan McCain just lost her dad. Yes, the entire country lost a politician in Sen. John McCain, a man who millions of people loved and respected as a hero. But she lost her dad, a man she loved because he was important to her life in a personal way. And Meghan McCain's speech about her dad at his funeral is a powerful expression of a daughter's love. And the internet is giving her a sort of standing ovation for it.
Republican Sen. John McCain from Arizona died last Saturday after a difficult battle with brain cancer over the past year at the age of 81. A Vietnam war veteran who was detained as a prisoner of war in North Vietnam for over 5 years, McCain has often been exalted as a true American hero. A man who lived through a pretty unspeakable time and came back to his country still thinking about how he might best serve. He was the son of an admiral, a one-time presidential candidate, and had a reputation for being rather a lion in the Senate. All of which earned him a state funeral at the National Cathedral in Washington on Saturday, with former presidents Barack Obama and George W. Bush on hand to offer him a proper send off.
But perhaps no one gave a more moving tribute to McCain than his daughter.
Meghan McCain, who is an author and a co-host of The View, took to the podium at the top of the service and spoke of the kind of internal fortitude that kept her father strong, despite some of his difficulties in the past, according to USA Today:
My father had every reason to think the world was an awful place…my father had every reason to think the world was worth leaving. He did not think those things. My father was a great man, a great warrior, a great American and I admired him for all of these thing, but I loved him because he was a great father.
That being said, she acknowledged that her father, like every other human being on the planet, was not perfect.
Dad, I know you were not perfect. We live in an era where we knock down old American heroes for their imperfections. When no leader wants to admit to their fault or failure; you were an exception. And you gave us an ideal to strive for.
McCain went on to pay real tribute to the sacrifices McCain had made in his life, while not-so-subtly calling out those in politics who may not have made the same kind of sacrifices for their country:
We gather here to mourn the passing of American greatness, the real thing, not cheap rhetoric from men who will never come near the sacrifice he gave so willingly, nor the opportunistic appropriation of those who lived lives of comfort and privilege while he suffered and served. He was a great fire who burned bright. In the past few days my family and I have heard from so many of those Americans who stood in the warmth and light of his fire.
And if you're not crying now, I don't know what to say to you. Because the internet was collectively ugly-crying over this thoughtful, well-spoken final tribute to John McCain.
Meghan McCain has made something of a career of always being in her father's corner, particularly when it came to his combative relationship with President Trump. Which is perhaps why the crowd at McCain's funeral broke into uncharacteristic applause when she ended the speech with an apparent dig at Trump:
The American of John McCain has no need to be great again because America was always great.
There will be plenty of people who will take aim at Meghan McCain for bringing Trump into her eulogy, but perhaps this is her way of honoring her father. Fighting the good fight at every turn, standing up for what she believes in.
Carrying on his legacy.