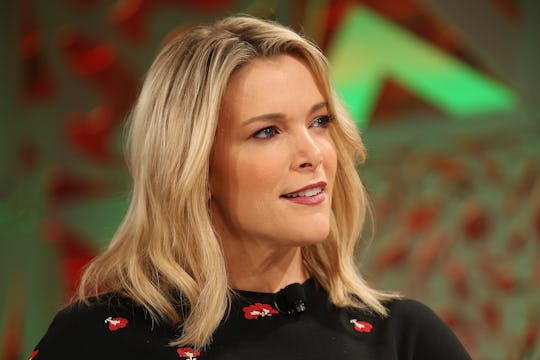 Phillip Faraone/Getty Images Entertainment/Getty Images
Twitter Called Out Megyn Kelly For Defending Blackface Halloween Costumes
I know loads of people who love nothing better than to lament the loss of those "good old days" and I've never understood it. In those good old days, it seems like people were able to say racist things, sexist things, make comments about people's bodies or their intellectual capabilities or their social status without fear of recrimination. The idea behind it being that the concept of political correctness (or as some of us call it, empathy and wisdom) has ruined those good old days. Take the case of Megyn Kelly questioning why blackface Halloween costumes are unacceptable, for instance. How is this a thing? Fortunately, the good humans of Twitter are not here for it.
Romper has reached out to a rep for Megyn Kelly and is waiting for a response.
Kelly took to her NBC show Megyn Kelly to discuss Halloween costume censorship with a panel of guests on Tuesday, including Jenna Bush Hager, Melissa Rivers, and Jacob Soboroff. When the topic of blackface was broached, Kelly's response was baffling, to say the least, as per The Hill; "But what is racist? Because truly you do get in trouble if you are a white person who puts on blackface at Halloween or a black person who puts on white face for Halloween. Back when I was a kid, that was okay as long as you were dressing up as like a character."
Um... nope.
Before we continue, let's get this out of the way; Megyn Kelly is 47, just one year older than me. And I can tell you that a white person painting their face black was never OK in any circumstances, even when I was a kid in the '70s and it was pretty much anything goes. Seriously, the whole world was like end of days, and even back then people knew better than to don blackface ever, ever.
Kelly went on to explain to her guests that case of Real Housewives of New York star Luann De Lesseps, who came under fire earlier this year for dressing as Diana Ross and wearing makeup to make her skin look darker, as reported by People. De Lesseps went on to apologize for the ill-conceived decision, but Kelly wondered aloud if it was really all that bad:
People said that was racist and I don't know, I felt like, who doesn't love Diana Ross? She wants to look like Diana Ross for one day. I don't know how that got racist on Halloween.
If Kelly was confused by people's unwillingness to embrace blackface, Twitter has absolutely spelled it out for her in no uncertain terms.
Some social media users were further concerned that no other member of the panel though to educate Kelly on exactly why blackface is beyond inappropriate. A panel of all-white people, to be clear.
This isn't the first time Kelly has said something not only patently ill-informed, but also racist. Back in 2013 she actually said that both Santa Claus and Jesus Christ were white, and she said it like there was no room for discussion, which is exactly what people like Kelly miss about the good old days. Times when they could make a statement without challenge, no matter how obtuse.
Kelly has since issued a detailed apology for her comments, as per People, writing that she now realizes "that such behavior is indeed wrong, and I am sorry. The history of blackface in our culture is abhorrent; the wounds too deep." She went on to admit she's "never been a [politically correct] kind of person — but I understand that we do need to be more sensitive in this day and age. Particularly on race and ethnicity issues which, far from being healed, have been exacerbated in our politics over the past year. This is a time for more understanding, love, sensitivity and honor, and I want to be part of that. I look forward to continuing that discussion."
It looks like the good old days might finally be over for good.