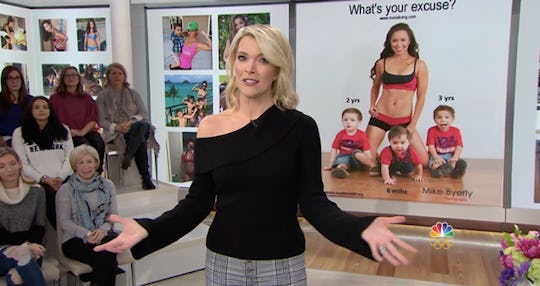 screenshot/NBC
Megyn Kelly's Weight Loss Hack Isn't Just Stupid, It's Harmful
Few understand the complexities of body image better than moms — after all, they've experienced a radical "total-body transformation" of their own. Finding thoughtful, empowering ways to discuss our bodies, knowing that our children are listening and imprinting on everything we say, can be tough. But sometimes it just comes down to this: if you're Megyn Kelly, please keep your views on fat-shaming to yourself. On January 11, NBC's Megyn Kelly sat down with Maria Kang on her show Megyn Kelly Today. Kang, a fitness coach and blogger, came under fire in 2014 when she shared an image featuring her toned body, her three young sons, and a slogan that read "What's Your Excuse?" The messaging was, rightfully, thought to be one coated in fat-shaming and privilege by many who came across it.
While Kelly may claim that fat-shaming was ultimately beneficial to her, much of the language she used in her conversation with Kang suggests otherwise.
Today, Kang is back with what she feels is a "softer" tagline that asks "What's Your Reason?" Sitting down with Kelly, she noted that she now wants to focus on "motivation" rather than "excuses," helping people find the reasons they want to live more actively. Kelly, however, suggested that she keep up the shaming instead.
"You should parlay the shaming thing into a professional business, because some of us want to be shamed," she told Kang. "When I was in law school and I was gaining weight, I said to my stepfather, if you see me going into that kitchen one more time, you say, 'Where are you going, fat ass?' And it works!"
How Kelly chooses to live her own life may be up to her, but there are more than a few issues with advocating bullying as a weight-loss tactic on national television: On a show undoubtedly watched by parents, educators, and health professionals alike. For most people, being body-shamed can have life-long repercussions, and it's highly unethical to suggest otherwise.
Although Kang herself wasn't especially shocked by Kelly's confession — telling the audience, "You know, my husband does that to me all the time. I tell him my goals, and if it's early in the morning and he sees I'm still in bed, he'll be like, 'What are you doing in here?' Or if I'm eating something like chips, he'll like take the bag and he'll hide it" — much of the internet was disgusted.
The View co-host Meghan McCain tweeted, "I was publicly fat shammed (sic) early on in my career and it sent me to therapy. Trust me, there are real life ramifications for fat shaming of any kind, it is NEVER acceptable. We should be fostering a healthy culture that celebrates all women of all sizes."
Plus-size model Jennifer Barreto Leyva showed disbelief on Twitter, saying, "You have to be kidding me @megynkelly this is absolutely insane no fat shaming can be good. Period."
Another Twitter user, Rose Villacis, commented, "My stepfather used to weigh me every Saturday and chart my weight loss/gain on a graph he placed on the refrigerator. Just one of a number of fat-shaming techniques he used. I still don't have a healthy relationship with food, 40 years later."
When a person's end-goal is weight loss, the truth is that fat-shaming, statistically, doesn't even work.
Hundreds more users came forward to share their harrowing relationships to their bodies, to food, or to fitness — all as a result of being mocked, fat-shamed, or actively encouraged into toxic dieting.
When a person's end-goal is weight loss, the truth is that fat-shaming, statistically, doesn't even work. In 2014, the University College London reported that "in a study [examining the relationship between weight loss and body shaming] of 2,944 U.K. adults over four years, those who reported experiencing weight discrimination gained more weight than those who did not."
A 2013 Florida College of Medicine study similarly found that "rather than motivating individuals to lose weight, weight discrimination increases risk for obesity," as reported by the L.A. Times.
Countless studies have also revealed that fat-shaming — be it in the form of media messaging or IRL bullying that promote the concept of "ideal beauty" or universally-definable health — can lead not only to low self-esteem, but to depression, eating disorders, and further mental health struggles.
There are countless reasons that the National Association of Anorexia Nervosa and Associated Disorders reports that at least 30 million people of all ages and genders in the U.S. suffer from an eating disorder. In America alone, disordered eating can lead to at least one death every 62 minutes. It would be wholly naive to claim that personal experiences of body-shaming (and fat-shaming in particular) do not play a role in these astronomical figures for many sufferers.
While Kelly may claim that fat-shaming was ultimately beneficial to her, much of the language she used in her conversation with Kang suggests otherwise. The journalist repeatedly berated her figure on air. She told Kang how envious she is of her abs. In a tone of embarrassment, she noted that she's often "too tired" to work out. She joked about craving wine and dark chocolate, even if they impact her figure in a way she dislikes. All this, from a woman few would call anything but thin.
This isn't the type of language people generally use if they've successfully fostered a healthier relationship with their body. It is language rooted in pitting women (and their bodies) against each other. It is language that reifies the notion that some bodies are inherently better than others. It is language that opposes ideologies of self-love or self-care.
Kelly's stance on fat-shaming ultimately encouraged abusive behavior. But at the end of the day, most people don't find either self-love or self-care if they're being shamed by third parties, or if they're actively shaming themselves.
Check out Romper's new video series, Romper's Doula Diaries:
Watch full episodes of Romper's Doula Diaries on Facebook Watch.