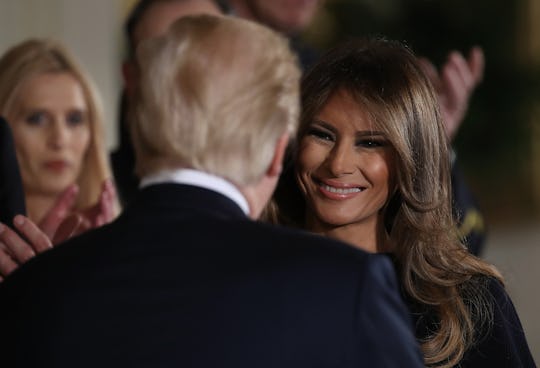 Win McNamee/Getty Images News/Getty Images
Melania Trump Is The "Most Popular" Trump, But The Rest Of The Family Didn't Fare As Well
Everyone knows that President Donald Trump is obsessed with ratings. But he's probably not too pleased about the latest poll fromThe Economist and YouGov documenting just how favorably or unfavorably people view the first family. Turns out that first lady Melania Trump is the "most popular" Trump after her husband's first year in office. The rest of the family, meanwhile, isn't doing too well in the eyes of the public.
Melania coasted to first place among the Trump crew with a 48 percent favorability rating, while 33 percent of poll respondents viewed her unfavorably, according to the YouGov poll. Even though Melania did well compared with the group around her, she didn't catch up to her predecessor, Michelle Obama, who had a 57 percent approval rating back in 2010, according to the poll at that time when President Barack Obama was in office. No word yet on whether or not Melania will give more Obama-influenced speeches in order to try to close the gap.
President Trump, in comparison, has a 43 percent approval rating according to the new poll, and when it comes to his adult children and son-in-law, the likability situation gets more dire. Over the past year, for example, Ivanka Trump dropped in favorability from 44 percent to 41 percent, while the percentage of people who viewed her unfavorably rose from 32 to 42.
As for the rest of the family, according to the poll, Don Jr.'s approval rating is at 36 percent, Eric came next with 32 percent, and who came in last with a low 25 percent favorability mark? It can only be Jared!
So, what helped Melania come in first? Well, first ladies tend to have higher favorability ratings than their husbands, as Vice explained. After all, while presidents publicly make the majority of the tough decisions, first ladies tend to take on relatively uncontroversial initiatives. Laura Bush promoted reading. Michelle Obama wanted to make kids healthier. Melania Trump is tackling bullying, which is well, a much more complicated problem.
On top of that, even some people who despise President Trump might enjoy the not-so-subtle suggestions that Melania might share their feelings more than she publicly lets on. Photos and clips of Melania swatting away her husband's hand tend to go instantly viral. And let us never forget Melania's infamous inauguration smile-drooping-into-a-frown reaction:
Even over the weekend, people were quick to jump on Melania's tweet commemorating her husband's first year in office, noting that the tweet and accompanying picture didn't actually include any direct mention of the POTUS himself.
Still, 48 percent approval is a pretty low rating for a first lady. Compare that to Laura Bush, who had an 82 percent approval rating in 2006, according to a Gallup poll. As Kristen Bell pointed out while hosting the SAG Awards over the weekend, Melania's chosen focus on combatting bullying only highlights how much her own husband uses his Twitter account to intimidate and spread fear. After noting that she was the "first lady" to host the SAG Awards, according to The Daily Beast, Bell said, "I think my first initiative as first lady will be cyberbullying, because I have yet to see any progress made on that problem quite yet."
Perhaps many Americans feel that all the hand-swatting in the world can't make up for the fact that, at the end of the day, Melania backs her husband's harmful policies.
And speaking of complicit, it's worth examining Ivanka's drastic change in favorability. She's the only member of the family to switch from a favorable to an unfavorable rating in the poll over the course of the year. Perhaps it's because, as her father came into office, she cast herself as a "moderating influence," and some hoped that she might wield some actual power over her father's policies about women's issues, like birth control and equal pay.
How's that going, one year in? Well, the administration's attacks on women's rights are fiercer than ever, according to The New York Times, Ivanka ended up backing her father's repeal of an Obama-era rule meant to promote equal pay for women, as CNN reported, and during the 2018 Women's March, Ivanka reportedly deleted a section reading "passionate advocate for the education and empowerment of women and girls" from her Twitter profile, as Vogue pointed out.
All in all, this latest poll doesn't paint the most positive picture for the Trump family's first year in the White House. And only time will tell how these ratings will change over the next three years.
Check out Romper's new video series, Romper's Doula Diaries:
Watch full episodes of Romper's Doula Diaries on Facebook Watch.