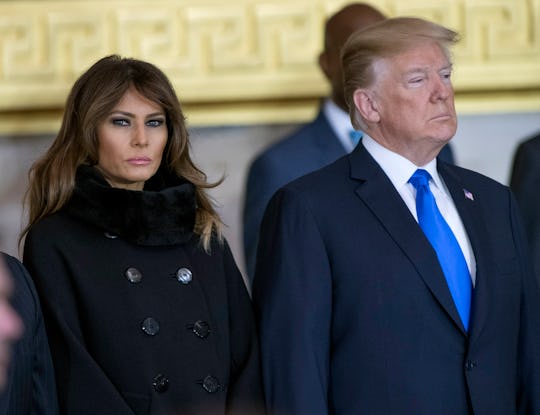 Pool/Getty Images News/Getty Images
Melania Trump Weighed In On The Immigration Policy That's Separating Families At The Border
Amid growing frustrations and backlash following the Trump administration's controversial agenda for immigration reform, Melania Trump reportedly said she "hates to see" children being separated from their parents at the border. The first lady's statement, released on Sunday via CNN, has been regarded as a surprising move as she rarely speaks out about President Donald Trump's policies.
"Mrs. Trump hates to see children separated from their families and hopes both sides of the aisle can finally come together to achieve successful immigration reform," the statement began, as reported by CNN. Mrs. Trump's communication's director, Stephanie Grisham, spoke to CNN and made sure to emphasize that the first lady believed a solution was possible. "She believes we need to be a country that follows all laws, but also a country that governs with heart," Grisham told CNN. The White House did not immediately return Romper's request for comment.
The issue at hand is the Trump administration's "zero tolerance" immigration policy, which has resulted in migrant children being forcefully separated from their parents at the U.S.-Mexico border as they seek asylum in the United States, according to The Washington Post. As TIME reported, undocumented migrants and asylum seekers who enter the country "without authorization" are now "subject to prosecution for a federal misdemeanor."
Meanwhile, according to TIME, children are being taken from their parents and put into a juvenile facility. One such facility in Brownsville, Texas, reportedly "houses more than 1,400 immigrant boys" in a former Walmart, according to The Texas Tribune, many of whom have been "forcibly separated" from their parents as a result of the Trump administration's policy.
Attorney General Jeff Sessions announced the new policy in May, according to TIME, and emphasized the "zero tolerance" behind the policy. As TIME reported at the time, Sessions said:
If you are smuggling a child then we will prosecute you, and that child will be separated from you as required by law. If you don't like that, then don't smuggle children over our border. If you cross this border unlawfully, then we will prosecute you. It's that simple. We are dealing with a massive influx of illegal aliens across our Southwest Border. But we're not going to stand for this.
Roberta Jacobson, former U.S. ambassador to Mexico, told NPR on Sunday that the policy is "draconian" and "un-American." In just about six weeks, according to CNN, nearly 2,000 migrant children have been separated from their parents with this policy in place.
As it stands, many activists, politicians, and celebrities alike have spoken out against the Trump administration's immigration agenda and have even organized efforts to raise funds for those working to fight against the policy, including Chrissy Teigen and John Legend. (If you'd like to help, you can donate to the American Civil Liberties Union here.)
Though she expressed her sadness about the situation, the first lady's statement essentially "echoes" the president's "false claims," according to The New York Times, that "Democrats forced that law upon our nation," as he told reporters last week, according to CNN. "Instead, by saying that 'both sides' needed to agree, she adopted his argument that the situation was caused by political stalemate rather than a policy he initiated," according to The New York Times.
According to CNN, Trump has used this policy as a bargaining tool, having hinted in a Fox and Friends interview that he wouldn't change the policy unless Democrats conceded on some more of his immigration policies, such as building a border wall.
Though the first lady's statement does not call on her husband to end this policy and reunite families immediately, given how out of character it is for her to interject herself in such a way, hopefully those in the White House can come together and "govern with heart."