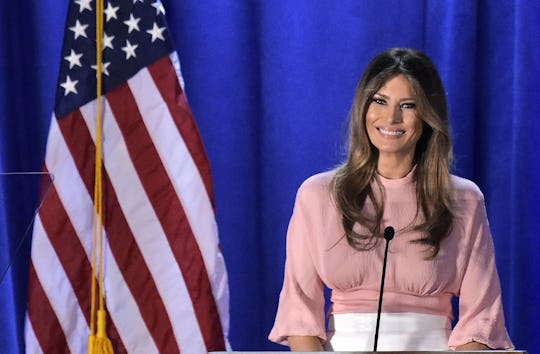 MANDEL NGAN/AFP/Getty Images
Melania Trump Says She'll Advocate For Women & Children If Donald Trump Wins The Election
Although Melania Trump has kept a relatively low profile throughout most of the election, she took the stage less than a week before Election Day to deliver a rare campaign speech. On Thursday, Nov. 8, if Donald Trump wins the election, Melania Trump said she'll advocate for women and children in her new role as first lady. However, in expected Trump campaign fashion, Melania's speech in the swing state of Pennsylvania laid out the role she hopes to fill as first lady but did not delve into any specific plans on how she will exactly deliver these goals.
"It will be my honor and privilege to serve this country. I will be an advocate for women and for children," she said. "I'm a full-time mother to our (10-year-old) son Barron, an incredible boy."
She continued, "I'm with our son. We talk a little bit about politics, and a lot about life, homework and sports. Barron has many privileges and advantages. We know how fortunate we are…. I want my little boy to know that he's blessed to be born in a country with constitutional democracy."
Many were quick to point out that while Melania's speech touched on things she hoped to combat as first lady — such as the harsh world of cyberbullying — her husband's long history of bullying was not mentioned.
During her 15-minute speech in Berwyn, Pennsylvania, Melania explained,
It is never OK when a 12-year-old girl or boy is mocked, bullied or attacked. It is terrible when it happens on the playground, and it is absolutely unacceptable when it is done by someone with no name hiding on the internet. We have to find a better way to talk to each other. We must find better ways to honor and support the basic goodness of our children, especially in social media. It will be one of the main focuses of my work, if I am privileged enough to become your first lady.
For perspective, Donald Trump's Twitter tirades are not anonymous, and he has insulted hundreds of people on social media over the years, including political opponents, journalists, news organizations, and celebrities. Back in September at the first presidential debate, Hillary Clinton cited an instance in which Trump allegedly referred to the 1996 Miss Universe, Alicia Machado, as "Miss Piggy" and "Miss Housekeeping," a degrading hit at her Hispanic heritage. After the debate, the GOP nominee went on a 3 a.m. Twitter rant and called Machado "disgusting" and a "con."
On Thursday, many were quick to note the irony of this specific vision and posted their thoughts on Twitter:
As for Melania's glowing remarks about women — whom she described as "strong, intelligent, generous, committed, determined" — those also starkly contrast with her husband's long line of alleged misogyny.
"He certainly knows how to shake things up, doesn't he?" she said, referring to her husband's aggressive tendencies. "He knows how to make real change. Make America great again is not just some slogan. It is what has been in his heart since the day I met him."
Trump's commitment to both the Republican party and her husband's campaign is very apparent. But, vowing to fix many of the issues that her husband has ironically been pushing himself for years is frustrating to listen to and even more difficult to believe.