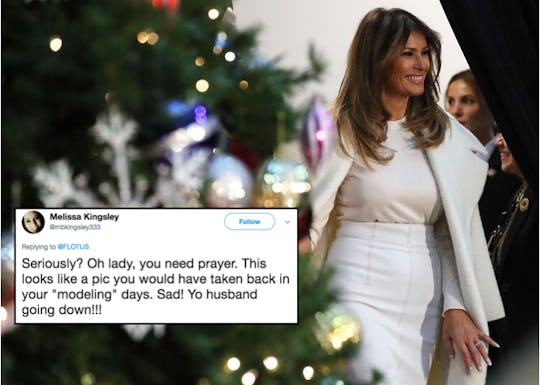 Mark Wilson/Getty Images News/Getty Images & @mbkingsley333/ Twitter
Melania Trump Tweeted This Santa Selfie & People Are *Not* Feeling Festive About It
I can sort of picture it: Melania Trump at Mar-a-Lago, her son Barron has opened his presents, perhaps her husband, President Donald Trump, has taken off for a round of golf or three. There's that down time on Christmas Day, usually mid-afternoon, when moms can sometimes enjoy a little free time. Grab a shower, slap on a little makeup, maybe take a selfie to commemorate this moment of happy quiet. It's sort of a universal thing, I think. But it doesn't turn out the same for everyone. When Melania Trump shared a festive Santa selfie, Twitter was not feeling too charitable about it. In fact, thousands of people couldn't seem to stop tearing it apart.
The first lady appeared to be enjoying an especially festive moment on Christmas Day. After all, in the nearly one year since her husband moved into the White House, Melania has been decidedly reticent about sharing on her social media platforms. She has posted fairly regularly in her capacity as the first lady of the United States, but on a personal level? Not so much. So it was something of a shock to see Melania sharing a festive selfie. Perhaps even more so because it looked as though it might have been shared of her own accord.
In the festive selfie, Melania used a filter to create some snowflakes, a Santa hat, and a few glittery reindeer prancing about her head. The first lady and former model might have thought the selfie would be a fun way to celebrate the day. Innocuous enough, right?
Wrong.
The photo, which was shared on Melania's official FLOTUS Twitter account, was inundated with comments from people with all sorts of complaints.
Some, like the Socialist Party of Great Britain, thought it was in poor taste in the wake of the recent tax bill the GOP passed just before Christmas.
Others felt the photo might be inappropriate for a first lady, that it was too casual or, maybe too sexy for someone in a position of power.
There were other critics who saw the picture and immediately missed former first lady Michelle Obama.
It was a lot of harsh criticism for Melania, who has struggled to find her footing as a first lady. In recent months, she has seen her popularity rise exponentially; as of September, a CNN poll found that she was the most popular Trump. CNN found that 44 percent of Americans viewed her favorably, a 20 percent rise from her 24 percent popularity rating back in February. Perhaps Twitter didn't get the memo about Melania's poll numbers.
Melania has been in the public eye more than usual recently because of several White House Christmas traditions; she decorated the White House for the holidays, and her design aesthetic went over like a lead balloon. Melania also called children across the country alongside her husband on Christmas Eve to wish them a Merry Christmas and help with the tradition of tracking Santa Claus' progress across the globe with NORAD.
OK, I get that not everyone would love to see Melania Trump's festive selfie, looking seemingly carefree when many Americans' livelihoods are in jeopardy. Indeed, a lot has happened in 2017, and seeing someone so personally connected to President Trump, a man so many people see in such a negative light, will bring up some heated feelings. But, there really are bigger fish to fry these days — like it or not — and Melania Trump's Santa selfie doesn't even make the top 100 list of concerns.
Check out Romper's new video series, Romper's Doula Diaries:
Watch full episodes of Romper's Doula Diaries on Facebook Watch.