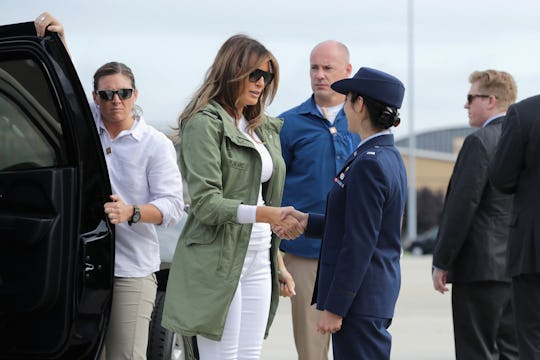 Chip Somodevilla/Getty Images News/Getty Images
Melania Trump Visited The Border To "See What's Real," & Twitter Has *Thoughts*
Just one day after her husband's reversal of his administration's policy that forced undocumented immigrants to be separated from their children upon illegally crossing the border, First Lady Melania Trump visited the border on Thursday. She made two stops in McAllen, a city in Southern Texas right near the border, TIME reported. However, this trip was not for Melania to visit children separated from their parents — rather, she met with officials at shelters that housed only a few separated children.
"First Lady Melania Trump has arrived in Texas to take part in briefings and tours at a nonprofit social services center for children who have entered the United States illegally and a customs and border patrol processing center," reads a statement from Melania's communications director on the White House's website. "Her goals are to thank law enforcement and social services providers for their hard work, lend support and hear more on how the administration can build upon the already existing efforts to reunite children with their families."
Her first visit was to the Upbring New Hope Children's Shelter, which the Department of Health and Human Services oversees, according to CNN. The shelter currently houses just over 50 children, aged 12-17, CNN reported. Second, she visited a shelter for migrant families that is sponsored by the Department of Homeland Security, TIME reported.
"She wants to see what's real," Stephanie Grisham, the first lady's spokeswoman, told CNN. "She wanted to see as close to what she had been seeing on TV. She wants to see a realistic view of what's happening." Grisham added that Melania will continue to update President Trump. "As with a many topics she will continue to give her husband her opinions," Grisham said.
At a roundtable at the Upbring New Hope Children's Shelter, Melania addressed a group of employees and doctors, ABC News reported. The FLOTUS said:
I'm glad I'm here and I'm looking forward to seeing the children ... But first of all, let me begin to recognize each of you and thanking you for all that you do, for your heroic work that you do every day and what you do for those children. We all know they're here without their families, and I want to thank you for your hard work.
To clarify, only a few of the children at Upbring were separated from their families at the border. Most of them crossed the border as unaccompanied minors, ABC News reported, based on a pool report and information from "facility officials." After news broke of Melania's visit down south, many responded on Twitter, pointing out that very fact.
Additionally, many criticized the first lady for calling her trip "unannounced" and "impromptu." Some even called her a "crisis actor."
Others specifically called Melania out for choosing these shelters as opposed to the ones where separated children are forced to live within chain-link walls and sleep underneath foil blankets on the floor.
Upbring definitely seems like a much nicer shelter than the aforementioned ones that have been dominating the news. "Usually when they get here they are very distraught, in the sense that they don't know where they're at," an official told Melania at the roundtable, as seen in a video shared by Politico on Twitter. The official continued by explaining that within the first 24 hours, the shelter employees make sure to provide new children with food, clothing, a shower, other basic needs, and orient them to their new temporary home. "It's a process," the official added.
"But I've heard they're very happy and they love to study. They love to go to school," Melania responded.
Whether or not Melania Trump's visit to the Texas shelters was really "impromptu," unfortunately, it does not seem like she actually did anything to help any displaced children. If you want to help the families who have been separated at the border, click here for a list of ideas.
This article was originally published on