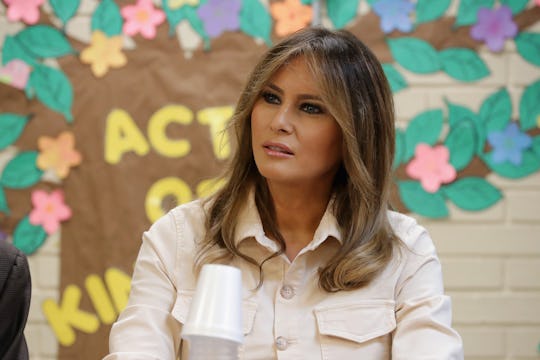 Chip Somodevilla/Getty Images News/Getty Images
Melania Trump Wore An Incredibly Tone-Deaf Jacket On Her Trip To Visit Immigrant Children
As a former model, one would expect first lady Melania Trump to be uber-aware of every fashion item that graces her body. That's why it was confusing, even outrageous, to see the garment she donned before she visited facilities housing immigrant children, some of whom have been separated from their parents at the border, on Thursday. As she boarded a flight, photographers spotted Melania Trump wearing a jacket that read "I Really Don't Care. Do U?" across the back. Which — given the current political climate and the reason for her trip — sparked a collective, "Did that just really happen?"
The wording, written in a white paint-like pattern on an olive green trench coat, can be seen as Trump boarded the plane that would take her to Texas. The Daily Mail first reported that the jacket in question appears to be sold by Zara and is available for $39. The first lady was not seen wearing it when she left the plane once she arrived in Texas to begin her tour, according to the Daily Mail.
Not long after the jacket and its tone deaf message made rounds online Trump's spokeswoman issued a statement to The Hill to address the criticism. "It's a jacket. There was no hidden message," Trump's communications director Stephanie Grisham said, according to The Hill. "After today's important visit to Texas, I hope the media isn't going to choose to focus on her wardrobe." The statement added, "(Much like her high heels last year)."
Romper's request for comment was not immediately returned.
After arriving in McAllen, Texas, Trump visited two facilities, as reported by TIME. One is a shelter for migrant families run by the Department of Homeland Security and the other is the Upbring New Hope Center for Children, run by the Department of Health and Human Services, which is on the border between the United States and Mexico. The first lady toured the facility where 58 children are being held, though In Style reported that only five or six of those children have been separated from their families. The other children reportedly arrived unaccompanied to the border, according to the publication.
Immigration policy has been at the top of the news cycle for several weeks ever since a report revealed in late May that the government had reportedly lost track of nearly 1,500 immigrant children who had been separated from parents, according to CNN. That turned the spotlight on a new, "zero-tolerance" policy enacted by the Trump administration and announced by the Justice Department in April, which allowed for separation of families while the adults are prosecuted, according to Glamour. After massive public outcry, President Trump signed an executive order on June 20 that ended the the practice of family separations, though "zero tolerance" will still be in effect and illegal immigrants will be prosecuted, according to The Boston Globe.
The first lady's communications director gave a statement to the press today during the flight to Texas, according to CNN, and said that she "wants to see what's real. She wanted to see as close to what she had been seeing on TV. She wants to see a realistic view of what's happening." Her visit isn't entirely focused on children, however. TIME also reported that her office commented the first lady's "goals are to thank law enforcement and social services providers for their hard work, lend support and hear more on how the administration can build upon already existing efforts to reunite children with their families."
The first lady held a round table at the Upbring New Hope Center where she spoke to staff and thanked them for "your hard work, your compassion and your kindness," according to CNN. She asked questions like how often children talk to their families, and what their physical and mental health is like. Staff reportedly told her the children speak with family members twice a week and that they are "usually distraught" when they come to the shelter, but "when they see the environment they start relaxing," according to CNN. Trump commented, as In Style reported, "I'm sure they're happy and they love to study. They love to go to school."
But the mixed messages matter and the public has, understandably, been less than forgiving of the first lady's choice of clothing.
The first lady also received criticism in August 2017 for choices similar to those today. While boarding the plane to view the devastation caused by Hurricane Harvey she wore stiletto heels, according to Vanity Fair. Critics then also commented on her seeming detachment from the situation she was en route to bear witness to. On that day, she also changed during the flight, wearing tennis shoes and a baseball cap when she touched down, reported Vanity Fair.
It's hard to say that whether Melania Trump has learned anything from the public response to these kinds of choices. Does she even care, despite what her jacket might say? It's impossible to read her mind, of course. However, if you care about the immigrant families separated at the border — as so, so many Americans do — here are a few ways to help.