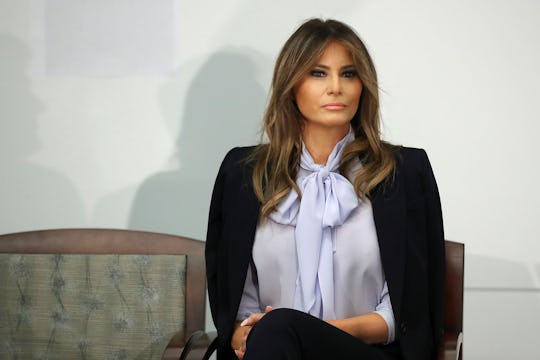 Chip Somodevilla/Getty Images News/Getty Images
Twitter Is Dumbfounded That Melania Trump's One Day In Cairo Cost Taxpayers $95,000
President Donald Trump has long admonished so-called "wasteful spending" in Washington, D.C. "Draining the swap" and cutting budgets had been cornerstones of his presidential campaign, and promises he continues to make while in office. Yet... first lady Melania Trump's one day in Cairo reportedly cost taxpayers over $95,000, according to Quartz — almost $20,000 more than the president's stay in Scotland last July. And people are not happy — not happy at all. Romper's request for comment from the White House was not immediately returned.
Last month, the first lady of the United States paid a visit to the Semiramis Intercontinental Cairo, a luxury hotel in Egypt's capital, as part of her first major solo international tour. The trip was short, and didn't last more than a day. Yet, a federal spending report shows that, on Sept. 30, the U.S. Department of State shelled out $95,050 to the opulent hotel that sits along the River Nile in Central Cairo. The check was cut a week before Melania Trump's visit and came from the U.S. Embassy in Cairo, according to The Cut.
In response to the news articles on the questionable taxpayer-funded expenditure, first lady's spokesperson, Stephanie Grisham called it "irresponsible journalism." Grisham took to Twitter throughout the day on Thursday and seemed to respond to every publication she could, pushing back against the accuracy of the price tag in news reports, according to Yahoo! Lifestyle.
And what was Grisham's point of contention? That Melania Trump didn't spend the night in Cairo, as Yahoo! Lifestyle reported. In a Thursday evening tweet to Quartz and its writer, Justin Rohrlich, who first reported the story, the FLOTUS communications director wrote:
Hi @qz - the First Lady did not stay the night in Cairo. This is an example of irresponsible journalism & had someone (@JustinRohrlich ) fact checked things w me, this could have been avoided.
Again, the first lady only spent six hours in Egypt's capital, racking up more than $95,000 in taxpayer money, which is something Grisham did not dispute, according to Yahoo! Lifestyle.
So how did a member of the White House spend that much money in less than a regular workday in the United States?
Visiting hotel rooms.
The Semiramis Intercontinental Cairo received payment from the U.S. Department of State a week before the first lady's visit on Saturday, Oct. 6, according to Quartz. And the description line for said payment read "FLOTUS visit hotel rooms" with no further explanation or detailed breakdown. So it's not known how many hotel rooms the first lady stepped into, how much was spent on her support staff, or the cost of her Secret Service detail, as Quartz and The Hill reported.
I am going to go out on a limb and say that six hours in a foreign city shouldn't cost taxpayers in the United States more than I would spend on nine years of rent for the apartment where I live now. Yet, Melania Trump's trip somehow managed to siphon that amount from federal funds, without any transparency.