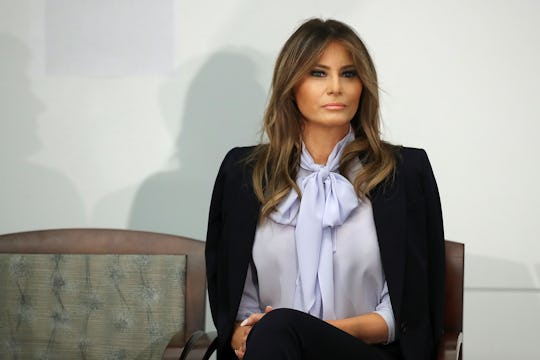 Chip Somodevilla/Getty Images News/Getty Images
This Is What We Know About Melania Trump's Upcoming Trip To Africa
While America continues to fizzle under her husband's leadership, First Lady Melania Trump is busy preparing to spend a little time away from it all. News recently broke that Melania will be going on a solo international trip to four countries in Africa. When is Melania Trump going to Africa? Here's everything that has been revealed about her upcoming travels.
On Wednesday, the first lady attended a gathering of spouses of foreign leaders at the annual U.N. General Assembly, NBC News reported. "Oct. 1 will mark the first day of my solo visit to four beautiful and very different countries in Africa," Melania told the small crowd, according to the news outlet. While in Africa, she will visit Ghana, Malawi, Kenya, and Egypt, where she will focus on child welfare. It will be her first solo international trip as FLOTUS, other than a one-day trip she took to Toronto last year, TIME reported.
"Whether it is education, drug addiction, hunger, online safety or bullying, poverty or disease, it is too often children who are hit first, and hardest, across the globe," Melania continued on Wednesday, according to NBC News. "Each of us hails from a country with its own unique challenges, but I know in my heart we are united by our commitment to raising the next generation to be happy, healthy and morally responsible adults."
Child welfare has been a focus of Melania's over the past few months. In May 2018, she announced her Be Best campaign, CNN reported. "Be Best is an awareness campaign dedicated to the most valuable and fragile among us: our children," Melania said in a speech at the White House Rose Garden to launch the initiative, according to USA Today. "There is one goal: to educate children about the many issues they are facing today."
Last month, Melania's spokeswoman Stephanie Grisham announced the upcoming trip. At the time, Melania issued the following statement to the Associated Press:
This will be my first time traveling to Africa and I am excited to educate myself on the issues facing children throughout the continent, while also learning about its rich culture and history ... We are a global society and I believe it is through open dialogue and the exchanging of ideas that we have a real opportunity to learn from one another.
Melania's choice to go to Africa for her first solo trip is notable, considering remarks President Donald Trump made about Haiti, El Salvador, and African countries in a January meeting with lawmakers. "Why are we having all these people from s—thole countries come here?" Trump allegedly said at the meeting, according to accounts from multiple who were present, The Washington Post reported.
Earlier this week, the president backpedalled on those controversial comments. "She's making a big trip to Africa," Trump said this Wednesday, Newsweek reported. "We both love Africa. Africa is so beautiful, the most beautiful part of the world, in many ways." Sorry, Donald, but I don't think there's anything you could say to make people forget about your "s—thole countries" comment.