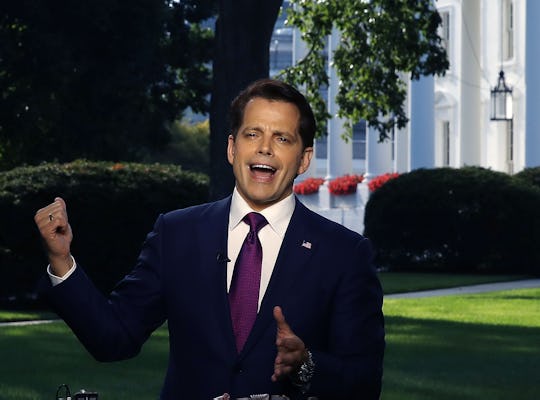 Mark Wilson/Getty Images News/Getty Images
The Internet Had A Meme-ing Field Day With Scaramucci's Removal
On Monday afternoon, the White House announced Anthony Scaramucci would leave his role as White House Communications Director, according to CNN. Given all the hiring turmoil at the White House throughout the past seven months, the internet reacted to Scaramucci's removal with hilarious memes and jokes. Although it's pretty depressing that the U.S. government is a total mess right now, the internet is here to comfort you amid all the drama. It's 2017, and Americans are 100 percent living in a reality show.
When Scaramucci was named White House Communications Director on July 21, it sent shockwaves across America. The news was a big deal for many reasons, especially since Scaramucci's appointment reportedly caused former Press Secretary Sean Spicer to resign. The Scaramucci and Spicer drama was intense, but then President Donald Trump amped up the ante by replacing former White House chief of staff Reince Priebus with Homeland Security Secretary John F. Kelly. Well, it turns out Trump's decision to promote Kelly ultimately led to Scaramucci's demise.
White House press secretary Sarah Huckabee Sanders said, according to The New York Times:
Anthony Scaramucci will be leaving his role as White House Communications Director. Mr. Scaramucci felt it was best to give chief of staff John Kelly a clean slate and the ability to build his own team. We wish him all the best.
Given Scaramucci's controversial demeanor and his drama with Spicer, the internet relished this latest twist. Sometimes the jokes write themselves, right?
Take a look at how the internet responded to Scaramucci's removal below:
Yep, it's safe to say the internet delivered today. Although it's unclear who will replace Scaramucci, it's obvious the internet will never forget his short and chaotic stint in the White House. To whoever ends up replacing Scaramucci, be warned that the internet will not hold back if you meet the fate of your predecessors.
On a more serious note, it goes without saying that the Trump administration's inability to staff its White House is detrimental to Americans. Given the myriad of pressing issues facing America right now, like health care, for example, it seems unbelievably petty to instead focus on power struggles and political drama. To take it even a step further, what kind of example is the Trump administration setting for kids? It's not a good look no matter how you slice it.
The only silver lining in all of this is the internet. The memes and jokes about Scaramucci's removal were amazing, and they deserve a million gold stars.