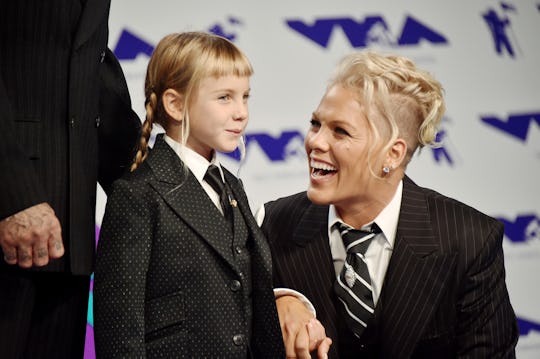 Frazer Harrison/Getty Images Entertainment/Getty Images
Memes & Tweets About Pink's Lawnmower At The VMAs Are Perfect
Pink is many things: A singer, an advocate, and an all around bad-ass. That's why memes and tweets about Pink's lawnmower at the VMAs really capture her essence as an artist.
Before accepting the 2017 Michael Jackson Video Vanguard Award, Pink gave what could only be called the performance of her career. Near the start, the singer rode onto the stage at the MTV Video Music Awards straddling a lawn mower, giving her daughter Willow a high-five in the process. She then sang a medley of her top hits to a chorus of cheers before belting her new single, "What About Us," from her forthcoming album, Beautiful Trauma.
It was a beautiful and empowering performance that highlighted Pink's advocacy and message of acceptance and love. But, as Billboard described it, before getting to that point, Pink began her performance by "harkening back to her devil-may-care pop beginnings." She kicked off with her hits "Get The Party Started" and "Raise Your Glass," then jumped into "So What" — the perfect song to accompany her while she rode her lawnmower across the stage.
The moment was iconic, and her fans couldn't get enough. They took to social media to give Pink props for her bold move.
Of course, Pink's performance is more than a lawn mower ride. It showcased exactly why the entertainer, born Alecia Moore, deserved the Video Vanguard Award. Pink has always dared to be herself, and always encouraged others to do the same. Her 17-year career is packed with hit singles that inspired and empowered a generation of girls and young women.
This extends to her daughter, Willow Sage. When accepting the Video Vanguard Award, Pink gave a stirring speech about self-acceptance, recalling a moment when her daughter felt down on herself. According to People, Pink told the audience that one day Willow told her she was "the ugliest girl" she knows and looks "like a boy with long hair."
Pink's response was nothing short of powerful. She told her daughter, she recalled for the VMA crowd,
'You're beautiful.' When people make fun of me they say I look like a boy or I'm too masculine or I'm too outspoken. Do you see me growing my hair? Do you see me changing my body? Do you see my selling out arenas all over the world? Baby girl, we don't change. We take the gravel in the shell and make a pearl. We help other people to change, so they can see all kinds of beauty.
Pink joins Beyoncé, Madonna, the Beatles, and David Bowie as Video Vanguard Award honorees, according to Footwear News. She is a trailblazer who deserves this highest honor.