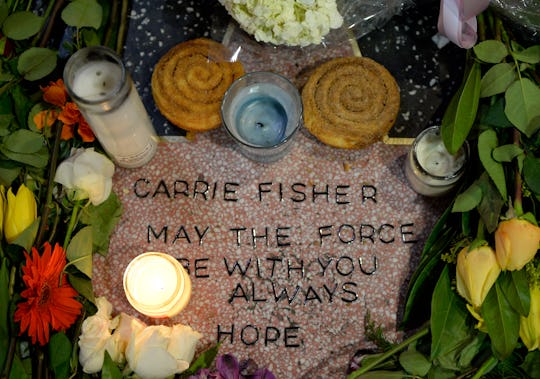 Kevork Djansezian/Getty Images Entertainment/Getty Images
Donate & Honor Carrie Fisher's Activist Legacy
Carrie Fisher lived her life without apology. The prolific actress, author, and champion of mental health awareness might have started out as Princess Leia in the Star Wars series, but she made a name for herself far beyond the boundaries of a galaxy far, far, away. When Fisher died on Tuesday after suffering chronic heart failure on a flight to Los Angeles from London, her loss was felt in many corners of the world. In Hollywood, most certainly, but also in the world of mental health advocacy. If you would like to donate to a mental health organization in Fisher's honor, it would be the sort of tribute to her legacy that the hilarious, complicated, wise, and talented woman would probably love best in the world.
Fisher struggled with bipolar disorder throughout her life, and was ceaselessly generous with others who shared her condition. She wanted to end the dogged stigmas surrounding depression and other mental health issues, and used her celebrity status to shed some much-needed light on living with her condition. Her unflinching honesty helped to normalize bipolar disorder at a time when it was still being largely stigmatized. Fisher once said of her battle:
At times, being bipolar can be an all-consuming challenge, requiring a lot of stamina and even more courage, so if you're living with this illness and functioning at all, it's something to be proud of, not ashamed of.
In the days following Fisher's death (as well as the death of her mother, actress Debbie Reynolds, at the age of 84 just one day later), there was an outpouring of support on social media from people struggling with mental health conditions of their own The hashtag #InHonorOfCarrie sprung up soon after, with fans sharing their own struggles as a touching way to honor Fisher's memory.
If you would like to honor Fisher's memory with a donation to a mental health organization, here are a few you might find worthwhile:
National Alliance On Mental Illness
NAMI is "the nation's largest grassroots mental health organization dedicated to building better lives for the millions of Americans affected by mental illness." This organization focuses on advocacy and education. NAMI also has a crisis hotline; (800) 950-NAMI. You can donate here.
Mental Health America
This non-profit, community based mental health organization focuses on promoting "mental health as a critical part of overall wellness, including prevention services for all, early identification and intervention for those at risk, and integrated care and treatment for those who need it, with recovery as the goal." You can donate here.
The Thalians
The Thalians is a mental health advocacy group made up of entertainers. Fisher's mom, the late Debbie Reynolds, was the president of the Thalians (named after the Greek Goddess of humor), since 1957. In her lifetime she managed to raise tens of millions of dollars for the Thalians. A donation to the Thalians would be a thoughtful, long-lasting way to honor the legacy not only of Fisher but of Reynolds, a mother who stood tall with her daughter throughout her battle with bipolar disorder.
No matter which organization you choose to donate to or promote on social media — because, if you're low on cash, a kindly Tweet goes a long way as well — you can rest assured that you're carrying on Fisher's legacy of de-stigmatizing the topic of mental health, as she would have likely wanted.