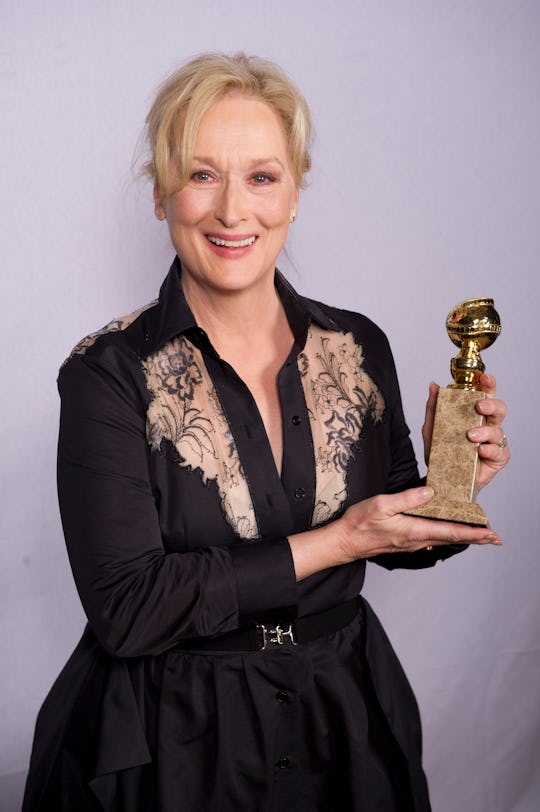 Hollywood Foreign Press Association
The Importance Of Meryl Streep's Globe Speech
With more nominations than any other actor or actress in Golden Globes history, it's no wonder that all eyes were on Meryl Streep at Sunday's 74th Golden Globes Awards. This year, the legendary and prolific actress was nominated for her turn as Florence Foster Jenkins' titular terrible opera singer. In addition to that nomination Streep was also fittingly honored with this year's Cecil B. DeMille Award for outstanding contributions to the entertainment industry. It was a big night for the award-winning actress. And while there were many memorable moments during her acceptance speech, Meryl Streep's comments about foreigners may have been the most powerful. . . and important.
There were plenty of jokes about president-elect Donald Trump and the incredibly dismal 2016 Presidential Election during the Golden Globes Ceremony this year. From host Jimmy Fallon's three Trump jokes in his opening monologue to The Night Manager winner Hugh Laurie's quip about accepting his award "on behalf of psychopathic billionaires everywhere," the show definitely wasn't hiding its predominantly liberal-leaning views with only 12 days to go before the inauguration. But the ever-eloquent Streep took the opportunity of over five uninterrupted minutes of speech time to speak on a much more serious note. The actress spoke out against Trump's anti-foreigner sentiments and Republicans' anti-immigration policies, all without calling the president-elect by name.
Streep first noted that she'd lost her voice after "screaming in lamentation this weekend" and lost her mind "sometime earlier this year," a clear remark pointed towards the presidential election, in which the illustrious actress was a very vocal Hillary Clinton supporter. Then, Streep went on to list out all of her fellow actors' and actresses' family backgrounds, particularly noting the esteemed entertainers who were foreign-born. Among the many famous faces she named were Natalie Portman (who was born in Jerusalem), Canadian Ryan Gosling, and Ethiopian-born Ruth Negga.
The Florence Foster Jenkins actress powerfully made her point by noting that "Hollywood is crawling with foreigners and outsiders," implicitly likening the actors born outside of the United States to the millions of immigrants whose livelihoods were being actively threatened by Trump's stated policies. It was an incredibly poignant moment and, naturally, stoked the ire of several conservative pundits on Twitter.
Ever one to inject humor while also making important political statements, Streep was quick to make a wry but funny joke about the negative effects of "kicking out" all of the beloved non-American-born entertainers in the industry. "If you kick them all out, you'll have nothing to watch but football and mixed martial arts, which are not the arts," Streep firmly stated to roaring applause.
Celebrities in attendance and viewers at home watching and reacting on Twitter were all clearly moved and thrilled by Streep laying it all on the line and staunchly speaking up for her beliefs. The award-winning actress is known for her strong acceptance speeches – let's face it, she's an award-accepting pro at this point. But this particular moment in her Cecil B. DeMille Award acceptance speech is one she's sure to be remembered by for years to come.