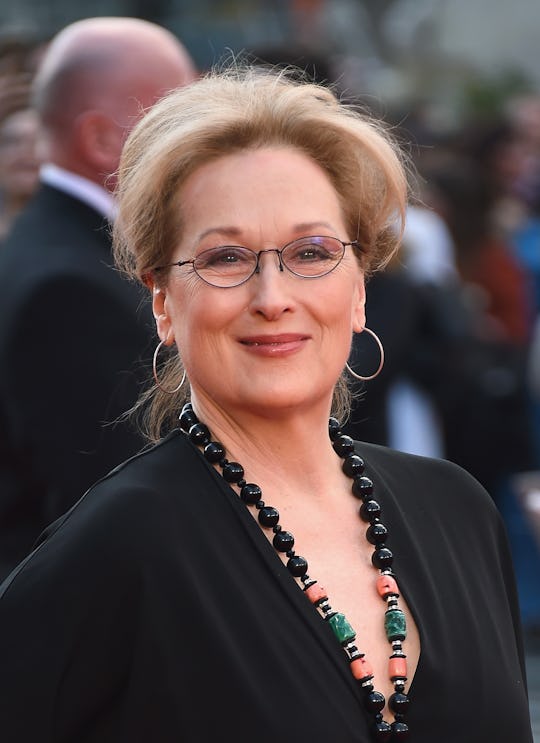 Ian Gavan/Getty Images Entertainment/Getty Images
Meryl Streep's Singing Donald Trump Impression Is The Only Thing You Need To See Today
Every girl remembers the first time she fell in love. With Meryl Streep, I mean. I decided to love Meryl the first time I watched Out of Africa. If you've never seen it and happen to have three spare hours to weep and lament never being able to visit Africa during the early 1900's, you'll be doing yourself a favor. That was my Big Streep Moment. Followed by countless others. For those of you who haven't fully embraced the Streep-ness of life, do I have a treat for you. Check out Streep's singing Donald Trump impression at some point today, because it's really the only thing you're going to need to see all week. And you're going to fall head over heels in love like countless women before you.
Meryl Streep's name has essentially become synonymous with Real Acting. Not Hollywood, not show business, but with that moment in a dark theater when you are watching a movie and you find yourself looking into the soul of the person on screen. That, right there, is Meryl Streep. But there is this other part of Streep too - she is apparently sort of hilarious. And weirdly good at doing impressions.
Streep recently combined those enviable skills to do an amazing, career-making (as if she needed it) impression of a singing Donald Trump. She even completed the look with some orange face make-up, a perfectly horrendous wig, and a fake gut. Join me now as we all take a moment to enjoy this pitch-perfect impression of the Republican presidential candidate by a movie legend.
And here is how we all felt about that:
Along with her Mamma Mia co-star Christine Baranski as Hillary Clinton, Streep imitated Trump as the closing act at the Public Theater Gala in New York City, benefitting free Shakespeare In The Park. The two women performed their own rendition of "Brush Up Your Shakespeare" from Cole Porter's Kiss Me, Kate, with most of the lyrics focused on picking up the ladies with varying degrees of success; "You'll let me know why it is all the women say no!"
No word yet from The Donald on how he feels about a three time Oscar-winning actress like Meryl Streep doing a perfect impression of him, but I'm guessing it could go one of three ways. Either,
A) He'll say he didn't think she looked hot enough
B) He'll be weirdly flattered that she mentioned him at all because she's a classy, famous, well-respected lady and that might be rather frightening for The Donald
or
C) He'll say the whole thing was his idea and he was in on it the whole time.
Whatever his reaction might be, I hope this little glimpse into a brilliant performance has made some of you fall in love with Meryl Streep for the first time. Because she is so utterly worth it, and you just never forget your first.