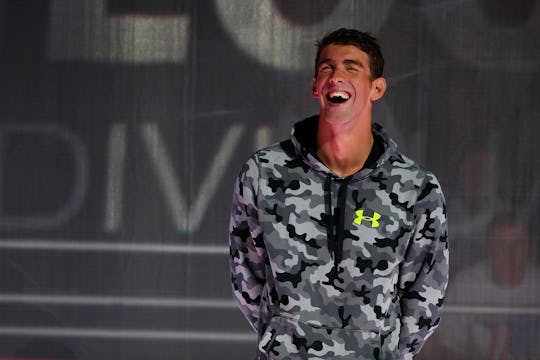 Al Bello/Getty Images Sport/Getty Images
Michael Phelps Posts A Poolside Instagram With Boomer, & Fans Go Nuts
The most interesting thing about the run-up to Rio's 2016 Olympic games isn't even an athlete; it's a baby. Swimmer Michael Phelps, who recently qualified for his fifth trip to the summer Olympics, maybe has more medals than anyone else in the world, but his greatest accomplishment is definitely his adorable son. So when Phelps recently posed in the pool with Boomer for an Instagram post, his fans lost it. In less than 24 hours, the post has already earned close to 100,000 likes and counting.
Two-month-old Boomer has been enjoying Instagram fame nearly since birth; Phelps introduced his son to the world through the social media platform on May 7, just two days after he was born. Since then, he's been sharing regular pics of the tot and fawning over him in the captions. "Just the happiest person in the world!!!" read one shot. "He's just the best!!!" said another. And considering who his father is, it's really no surprise that the 2-month-old spends so much time around the pool. I'd be surprised if he wasn't swimming before he's even walking. I mean, his dad is, if I'm not mistaken, technically classified as an aquatic mammal at this point.
And this wasn't the only pool pic taken that day; Boomer's mom, former beauty queen Nicole Johnson, shared a photo of herself and her son lounging in a pool float "while daddy works." Johnson and Phelps met in 2007, and dated off and on for years before getting engaged in early 2015. Just look at those two. I've never seen a baby look that relaxed in the water. Then again, he's probably been in that pool every day of his short life.
Boomer's pics have been such a welcome addition to Phelps' and Johnson's feeds, they actually gave the little one his very own Instagram account last month, and it's full of exclusives you won't see on his parents' accounts. There's one more shot of the whole family in the pool together; it seems that dad's freakishly long wingspan is helpful not only for swimming, but for taking family selfies! The caption says that Boomer "loved going in the pool" and that he "[c]an't wait" for his father to teach him how to swim. Swimming reportedly runs in Boomer's family; according to Biography, Phelps older sisters Whitney and Hilary also swam competitively. Perhaps Boomer will follow in his father and aunts' footsteps?