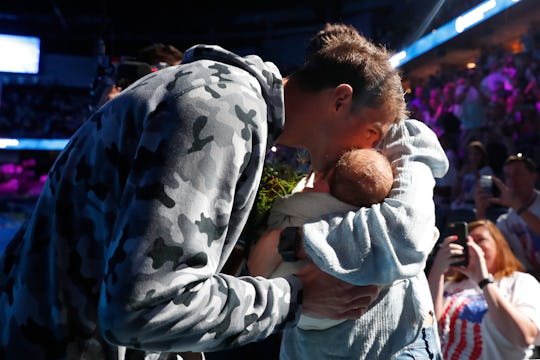 Al Bello/Getty Images Sport/Getty Images
Michael Phelps' Training Shoes Have His Son's Tiny Footprint, & It's So Adorable
As if I could love Michael Phelps any more than I already do... with the Rio Olympics just days away, fans are once again swimming (get it?) in a sea of adoration for Phelps. Whether it's his "awe shucks" smile, his impossible abs, or his open adoration of his family, Phelps is killing it these days. But in a more dad-friendly, wholesome way. The cutest thing he's done to date? Well, Phelps's training shoes have his son's tiny footprint on them. And yes, that is a collective "aww" you are hearing carried on the breeze outside your window.
Phelps, the swimming wunderkind with 22 medals under his belt — the most Olympic medals won by an individual in the history of the games (and when you think we used to be playing in togas, that's sort of amazing) — has a new badge of honor: proud dad. The Baltimore native is the father of young Boomer Phelps, who is just about 3 months old and too young to tell anyone how he actually feels about his name. He and fiancée Nicole Johnson have been hitting social media pretty hard with pics of their little cherub, and understandably so. Those cheeks! I. Can't. Even.
But the Instagram love is clearly not enough for Phelps, especially as he heads to Rio; he wants to keep thoughts of little Boomer close at hand... or rather, close at feet. Which is why Phelps had his new Under Armour training shoe, The Architech, fitted with Boomer's tiny footprint on the inside.
While Johnson and Boomer will both be in Rio cheering dad on, the footprint inside the shoes will serve as "a personal reminder that Boomer is with him every step and stroke of the way," according to a statement released by Under Armour.
Phelps was chosen on Wednesday to be the U.S. flag bearer for the Opening Ceremony of the Olympic Games on Friday. As he heads to his fourth Olympic Games, Phelps released a contemplative statement about the significance of becoming a flag bearer.
I'm honored to be chosen, proud to represent the U.S., and humbled by the significance of carrying the flag and all it stands for. For Sydney, I just wanted to make the team. For Athens, I wanted to win gold for my country. For Beijing, I wanted to do something nobody else had done. In London, I wanted to make history. And now, I want to walk in the opening ceremony, take it all in, represent America in the best possible way and make my family proud. This time around, it's about so much more than medals.
With his focus not just on medals, but on his family, how apropos is it that Boomer's little footprint will be tucked away inside his dad's shoe as a sweet reminder that, no matter what happens at the Olympic Games, there is someone precious waiting for him on the other side.