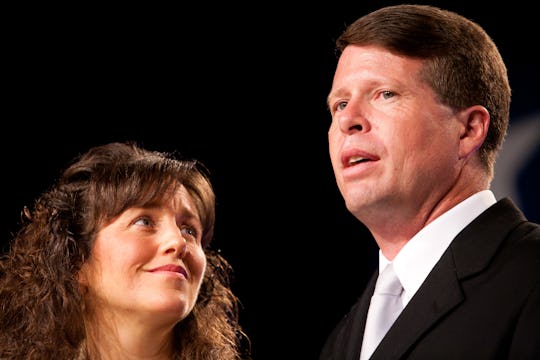 Brendan Hoffman/Getty Images Entertainment/Getty Images
Michelle Duggar's Quotes About Her Grandchildren Are All About Happiness
Michelle Duggar of TLC's Counting On is a mother of 19 children. So I guess you could say she might know a thing or two about parenting, from her own point of view at any rate. Now that she and husband Jim Bob Duggar have finished having babies, Michelle is settling in to the next stage of her life: being a grandmother. As she gets ready to welcome two more grandchildren within the next few months, Michelle Duggar's quotes about her grandchildren should give her fans a sense of how much joy she gets from the little ones in her life.
Although it should be noted that Michelle wasn't necessarily ready to give up on welcoming more children, as she said during an interview with the Today Show in 2014 when she was 46 years old, according to Radar Online; "Well, I'm 46 years old, and if this is the end for me being able to bear children then that is God's timing. If God saw fit for us to receive another child we would love that and welcome that." In the nearly four years since Michelle considered the end of her childbearing years, she has become a grandmother many times over. In fact, with the recent birth of Joy-Anna and Austin Forsyth's son Gideon, the updated Duggar grandchildren count sits at 10, with two more on the way.
Which begs the question; what sort of grandmother is Michelle Duggar?
Training Camp
In a June 2017 Facebook post, Michelle shared a picture of two of her grandchildren cleaning the floors with the caption, "Train them young! These little ones love to "help." While this might seem like a simple joke, fans were quick to criticize. Perhaps because of Michelle's outspoken support of training children to be obedient at all costs, as she wrote in this 2013 blog post for TLC.
200 & Counting
When Jill and Derick Dillard welcomed their first son, Israel, back in 2015, Jim Bob and Michelle took to Facebook to thank everyone for their well wishes, according to Us Weekly:
What a blessed time this is as we welcomed our new grandbaby, little Israel, into the world. We are just so thankful for our friends and those out there that have been praying for our family. Thank you so much.
By that point, the couple had four grandchildren, but they were setting their hopes a smidge higher than that. As Jim Bob noted, "Four grandkids and counting... going on 200."
So the kids better get to work, I guess.
Overflowing With Blessings
After Joy-Anna and Austin Forsyth recently welcomed the 10th Duggar grandchild, baby Gideon, Michelle took to the Duggar blog to congratulate the couple and enthuse over the new baby:
We are so thrilled for Joy and Austin! Children are a blessing from the Lord and we know they will be such great parents. We can't wait for this little one to grow up around all of these other grandbabies. We are so blessed and our hearts are overflowing.
Babysitting Duties
Back in 2013 when the oldest Duggar son Josh and his wife Anna announced they were expecting their third child, Michelle was asked by a fan on the TLC blog what sort of advice she might offer the couple. She didn't have any advice to give the couple, but did have something even better to offer: babysitting services.
It's just so much fun having them around. Sometimes Anna and Josh will go on a date and we'll babysit for them. It's not a chore, but a real treat for us.
For the most part, it seems as though Michelle Duggar takes something of a hands-off approach with the next generation. She loves them but appears to let their parents make the decisions regarding their kids.
And that sounds just about perfect to me.