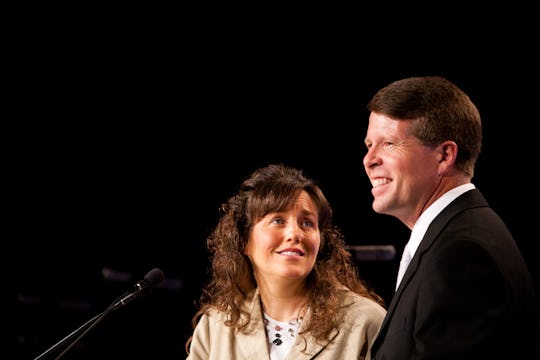 Brendan Hoffman/Getty Images Entertainment/Getty Images
Michelle Duggar's Quotes On Modesty Are... Questionable At Best
The Duggar family has never had too many issues sharing their opinions about religion, about parenting, about life in general. The former star of TLC's 19 Kids and Counting and mother to the next generation of Duggars on Counting On has been especially open about what she believes to be a woman's role in her family. These quotes about modesty from Michelle Duggar act as a small glimpse into the matriarch's beliefs about a woman's role in attracting the male gaze. And let's face it — they're a little questionable in modern day society.
Michelle and her husband, Jim Bob Duggar, are parents to 19 children, nine of whom are daughters. From the outset of 19 Kids and Counting, the Duggar parents appeared to revel in controlling their children's relationships outside of the household. Especially their daughters' relationships. The family exuberantly shared their rules about acceptable behavior with the outside world, from preaching abstinence before marriage, to parents monitoring text messages, to convoluted courting rituals that allowed engaged couples to only use the famous "side-hug," according to Us Weekly. To each their own, of course, but as fans continue to follow the Duggar family's exploits, perhaps it's important to remind people about some of Michelle's views on modesty.
On Choosing To Dress Modestly
Michelle made a conscious choice to dress modestly, which is 100 percent fine for her. But she also made that choice for her daughters (not her sons, apparently), and explained her reasoning in a 2013 blog post for TLC:
By keeping those private areas covered, there's not any "defrauding" going on. My kids are taught the definition of defrauding as stirring up desires that cannot be righteously fulfilled. We don't believe in defrauding others by the way we dress. And different people may be defrauded by different things. We can't control their thoughts, but we're responsible before God for our part. And so years ago, I just felt between me and my Lord that I really needed to dress modestly.
This sounds an awful lot like victim-blaming, in my humble opinion.
It also should be noted that the oldest Duggar son, Josh, was accused of molesting several girls when he was 14, including two of his sisters. His parents were aware of his actions at the time and did not report it to police, according to Entertainment Tonight. In response to the allegation, Josh wrote in a Facebook post, according to CNN,
Twelve years ago, as a young teenager I acted inexcusably for which I am extremely sorry and deeply regret. I hurt others, including my family and close friends. I confessed this to my parents who took several steps to help me address the situation. We spoke with the authorities where I confessed my wrongdoing and my parents arranged for me and those affected by my actions to receive counseling.
Passing Modesty Along
Michelle made teaching her daughters about how to dress like "little ladies" a priority from a young age, according to her 2013 blog post:
When the girls are little, they're jumping and playing and not even thinking about modesty. It's good because that's the way children should be. As a parent I would have to remind them, let's not stand upside down on your head in that chair because you want to practice being ladylike. And they look at me with this puzzled looked like, what does that mean? I'll explain, well, it means that you sit up, put your knees together and pull your skirt down over your knees.
It is spine chilling to realize that, as she was teaching her daughters to take on all the responsibility for the way they dress and how it might be perceived by men, her son Josh was apparently not expected to abide by the same rules.
Nike
In 2014, Michelle admitted that she encouraged her four eldest daughters to monitor other women's possible immodest clothing and her sons' reactions to them. According to Cosmopolitan, the family had a fun little code word, "Nike," to give all the Duggar men the heads-up that they had to put their heads down, as it were:
That's a signal to the boys, and even to Dad, that they should nonchalantly drop their eyes and look down at their shoes as we walk past her... It's meant to help keep the guys' eyes from seeing things they shouldn't be seeing. By using the single-word signal, the warning can be given quietly and discreetly.
On The Beach
In 2012, Michelle wrote a blog post about why her family struggled with going to the beach. She wrote:
We typically don't go to the beach in the summertime. And in general we don't do a lot of swimming events where swimming suits are worn because it's just too hard for the guys to try to keep their eyes averted in those situations.
Because men are somehow animals, not responsible for their base instincts, and women are in charge of keeping themselves covered, just in case?
Just asking for a friend.