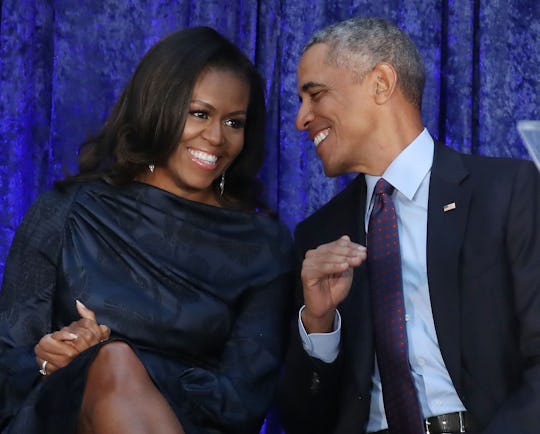 Mark Wilson/Getty Images News/Getty Images
Michelle Obama Made A Valentine's Day Playlist For Barack & It'll Make Your Heart Burst
Watching Michelle and Barack Obama interact with each other was one of the best things about his administration. You know, besides affordable health care, civil rights protections, and a dedication to tackling to climate change...but I digress. But really, these two led by example when it came to both the professional and the personal, and just because they're out of the White House doesn't mean they aren't still at it. This year, Michelle Obama made a Valentine's Day playlist for Barack which just makes my heart burst into a million pieces.
She posted a picture of them on Instagram and captioned it, "Happy #ValentinesDay to my one and only, @BarackObama. To celebrate the occasion, I'm dedicating a little Valentine's Day playlist to you!" Knowing just how much President Obama loves music and that he has darn good taste, there was no way I was not going to click through to see what lovey dovey tunes she added to the list.
The playlist is a public Spotify playlist, so anyone can listen. And it is *so* good, you might want to subscribe to it just to listen every day. It includes traditionally, always romantic songs like Etta James' "At Last" and Anita Baker's "Caught Up In The Rapture," but also more contemporary artists like Common, John Legend, Kendrick Lamar, and Ed Sheeran, among others.
On Twitter, Obama returned the V-Day love with a simple post wishing his wife a happy holiday and adding, "You make every day and every place better." Ugh, these two just don't quit when it comes to cuteness.
It might seem silly to obsess over the Obamas' relationship, but it's not often that we get to see politicians be so open about their feelings for each other. Apart from missing his politics, I really miss watching these two authentically and genuinely love each other. Their marriage seems so communicative, respectful, and like they really lift each other up. Part of their legacy will most definitely be that modeled behavior.
This week we got to get a little taste of what the good ol' days were like at the unveiling of their official portraits at the National Portrait Gallery on Monday, the Obamas were all smiles and appreciation for one another. President Obama is not the kind of man to let toxic masculinity in his way or let it stop him from empowering his wife and admitting that he has *actual* emotions.
Obama joked to Amy Sherald, who painted Michelle's stunning portrait, "I want to thank you for so spectacularly capturing the grace and beauty and intelligence and charm and hotness of the woman that I love," he said with his usual candor and smile, as Reuters reported.
On Twitter, people were missing them hard. One user wrote, "Watching the Obamas on TV is like gazing at a prize winning, elegant cake through a bake shop window, when all you got at home is a wrinkled bloated orange carrot."
John Legend, an artist on Michelle's playlist and part of another too-cute-for-words couples, was feeling the love, too. He wrote of the couple on TV, "The Obamas so cool and graceful. Their successor defending spousal abusers. So stark."
If anything, Michelle was the first first lady who was just as visible as her president husband. President Obama told Vogue about his wife, "Like a lot of political spouses, the role was thrust upon her. But I always knew she'd be incredible at it, and put her own unique stamp on the job." He added:
That's because who you see is who she is—the brilliant, funny, generous woman who, for whatever reason, agreed to marry me. I think people gravitate to her because they see themselves in her—a dedicated mom, a good friend, and someone who's not afraid to poke a little fun at herself from time to time.
And not afraid to show how much she adores her husband and what tunes they love. Never quit, you two.
Check out Romper's new video series, Bearing The Motherload, where disagreeing parents from different sides of an issue sit down with a mediator and talk about how to support (and not judge) each other's parenting perspectives. New episodes air Mondays on Facebook.