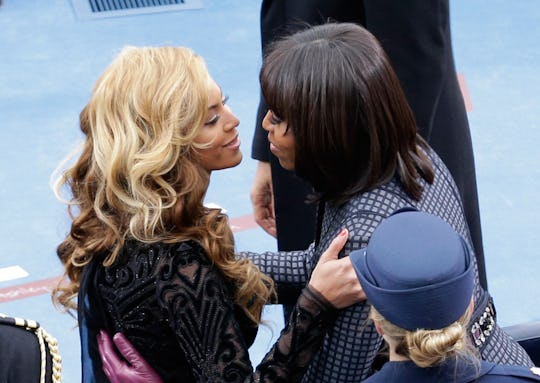 Rob Carr/Getty Images News/Getty Images
Michelle Obama & More Get In Formation For Beyonce's Birthday
On Monday, Beyoncé blessed the world with a divine 36 years on this mortal plane. While no mere mortal can truly offer a birthday salutation fit for the goddess that she is, many have tried. But on Monday, 16 women and two girls may just have reached perfection when it comes to paying tribute to Our Lady of Immaculate Formation. Okay, enough with the theatrics: Michelle Obama and more wished Beyoncé a happy birthday in the best way ever.
There are so many things for me to process here: First of all, Michelle Obama and Beyoncé are besties. This isn't exactly news, but the reaffirmation of their mutual love and respect for one another fills me with a level of joy I can hardly contain. But perhaps the most amazing part about Beyoncé's birthday tribute at her official website is that Obama and 17 other ladies literally got in formation for the singer's 36th birthday. Each woman donned the Lemonade hit single's signature look with a wide-brimmed black hat, off-the-shoulder black top, decadent gold bib necklace, and two long braids.
That Blue Ivy got in formation to celebrate her mom's birthday isn't surprising — but to scroll down and see "MRS. MICHELLE OBAMA" in all caps was perhaps the single greatest moment of Sept. 4, 2017.
Well, that's it. I'm done. Game over. I can no longer slay for I am slain. But Beyoncé's birthday tribute only became more incredible as I scrolled through each of the 18 black and white photos, each with slight variations in hats, necklaces, braids, and even bare shoulders. But first: Blue Ivy. You guys, I just can't right now. I. Just. Can't.
Okay, once you've recovered from MRS. MICHELLE OBAMA and the proud beauty that is Beyoncé's oldest daughter, some other familiar names popped up that made this "Formation"-inspired photo shoot something that was at once really sweet but also very powerful. Take for example, the matriarchs in Beyoncé's life who joined in on the birthday well-wishes: Her own mother, Tina Knowles Lawson, and JAY-Z's mother, Gloria Carter. In June, Carter came out as lesbian on 4:44, her son's latest album.
But it was more than just family who stepped up to wish Beyoncé a very happy birthday in the most Beyoncé way possible: Fellow Destiny's Child members Kelly Rowland and Michelle Williams tipped their black hats at Bey's way, too.
Even tennis goddess Serena Williams served up birthday felicitations for her dear friend.
The overall effect of all 18 Beyoncé birthday "Formation" portraits is really quite breathtaking — and is also permanently saved as my desktop background.
Happy birthday, Mrs. Beyoncé Knowles Carter. We are not worthy.