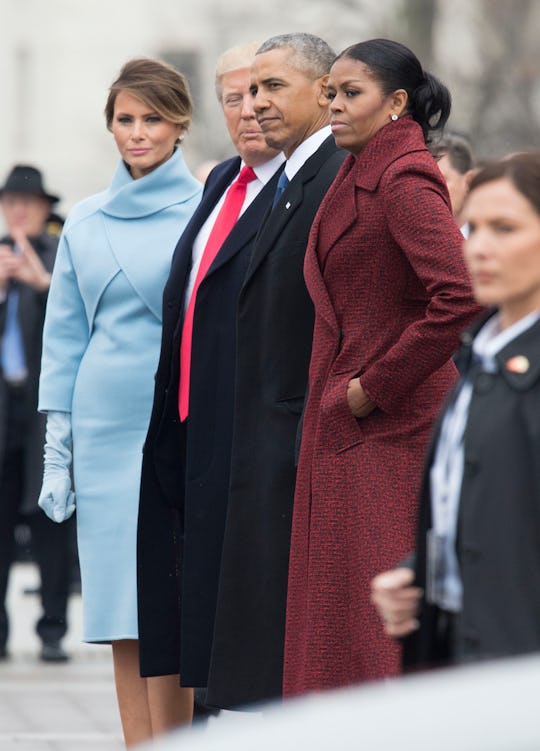 Pool/Getty Images News/Getty Images
Michelle Obama Reveals What She Was Actually Thinking At Trump's Inauguration
When President Barack Obama was first elected to the White House in 2008, it felt to many as a hopeful sign of a changing tide in America — a historic step forward to a more inclusive nation. Yet when President Donald Trump was elected to succeed him eight years later, it became excruciatingly clear that not everyone felt that way. His January 2017 Inauguration Day was one that stirred up a lot of complicated emotions among Americans, but in a recent interview with Good Morning America, Michelle Obama revealed how she felt during Trump's inauguration, according to HuffPost, and made it clear that it wasn't exactly easy for her to watch as the new administration took office either.
Though Michelle has continued to use her public platform to speak out on a variety of issues despite no longer being first lady, the upcoming release of her highly-anticipated memoir, Becoming, has meant that she's recently begun sharing candid details from her life in a way that few have seen from her before. For the first time, for example, Michelle revealed that she'd actually suffered a miscarriage 20 years ago, and that she and her husband turned to IVF to conceive their daughters, Sasha and Malia.
But she also opened up about what it was really like to witness Trump be sworn in as the next POTUS, and explained why she didn't exactly appear to be putting on a happy face about it all.
If you watched Trump's inauguration as it happened, it probably wasn't a stretch to assume that Michelle wasn't exactly thrilled that she and President Obama were handing the baton off to Trump and Melania — not only because she clearly didn't agree with his politics, but because she also appeared increasingly displeased as the event wore on. Yet in her interview with GMA's Robin Roberts, which aired Sunday, she explained that, well, she just couldn't help but look unhappy about what was happening.
In Becoming, Michelle wrote that, at Trump's 2017 inauguration, "the vibrant diversity of the two previous inaugurations was gone," and explained, "Someone from Barack's administration might have said that the optics were bad ― that what the public saw didn't reflect the president's reality or ideals. But in this case, maybe it did." It was then the former first lady said she "made [her] own optic adjustment," and "stopped even trying to smile" for the cameras.
As much as Michelle's displeasure over the event likely mirrored that of so many Americans watching along at home though, she acknowledged that, as the first black family in the White House, the fact that Trump had been chosen by so many voters to run the country also felt deeply personal. According to GMA, she wrote:
Our presence in the White House had been celebrated by millions of Americans. But it also contributed to a reactionary sense of fear and resentment among others. The hatred was old and deep, and as dangerous as ever.
In fact, Michelle said that, long before Trump's rise, she was so doubtful that the majority of voters would actually consider electing a black president that she honestly didn't think her husband would actually win his presidential campaign.
She told Roberts, "I think I did what a lot of black folks were doing. We were afraid to hope because it's hard to believe that the country that oppressed you could one day be led by you ... My grandfather, his grandfather was a slave, you know? ... And, and so my attitude was a reflection of that skepticism."
Of course, not only did Barack Obama manage to win that election, in 2012, he went on to earn a second term in office — and, to many, the values espoused by his presidency stands in stark contrast much of the rhetoric that has been coming out of the White House since Trump's team took the helm. Yet despite her initial doubts during her husband's campaign, Michelle admitted that, like many Democrats, she was still surprised to learn just how many American women actually voted for Trump in 2016.
In Becoming, she wrote,
I will always wonder about what led so many women, in particular, to reject an exceptionally qualified female candidate and instead choose a misogynist as their president.
Just as they did during their time in the nation's top office, Michelle and Barack Obama have largely attempted to navigate their adjustment back to normal life without becoming too involved in weighing in on the current administration. Yet now, with the release of her memoir, Michelle appears to be ready to share the kinds of messages that many of us have been longing to hear.
Though her life as first lady may have meant that she had to offer up a more carefully constructed, public version of herself, it sounds like she's now able to share some of her more private thoughts as well. And at a time when the political divide feels so deeply concerning to many, that's likely to feel incredibly validating to an awful lot of Americans who may have been hoping to hear her speak out.