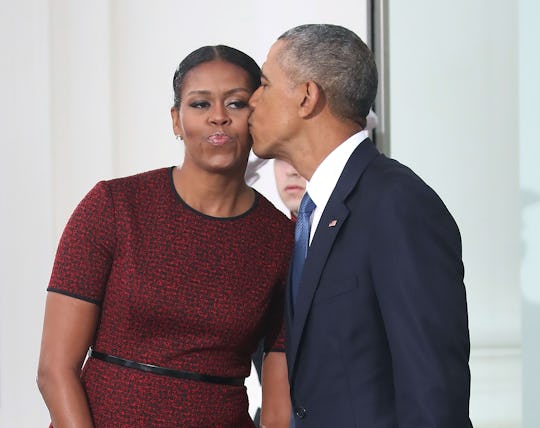 Mark Wilson/Getty Images News/Getty Images
Michelle Obama's Sweet Message For Barack On Father's Day
Barack Obama may have finished his eight-year tenure as the president of the United States, but there's one job title he'll never relinquish: "dad." It's no secret that Obama is crazy about his two teenage daughters, Sasha and Malia, and his wife, Michelle, clearly appreciates his dedication to the family as well as to the country. Michelle Obama's Father's day post is an adorable ode to Obama as a dad — and, honestly, it's pretty much impossible for her message to not make you love the whole former first family even more than you already do.
Happy #FathersDay @BarackObama," Michelle Obama wrote on Twitter Sunday. "Our daughters may be older and taller now, but they'll always be your little girls. We love you."
Along with the Father's Day message, Michelle Obama shared a photo from waaay back in the Obama family archives — and it's a gem. In it, Barack Obama flashes his signature smile while crouched down between a toddler Sasha, who just celebrated her Sweet Sixteen, and a tiny little Malia, who's now headed to Harvard in the fall. Judging by the girls' ages in the photo, it was taken well before their dad was first elected president back in 2008, probably while he was still a relatively unknown senator from Illinois.
And lot has changed for Obama since then (namely, he served as POTUS for two terms), but his love for his daughters certainly has not. Just last week, in a video address congratulating his friend and rapper Jay Z for his induction into the Songwriters Hall of Fame, noted that "Jay and I are also fools for our daughters..."
It was far from the first time he's publicly praised Sasha and Malia. During his very last press conference as president in January, he noted their resilience after Republican Donald Trump unexpectedly won the the nation's top job. "They don't mope," he said at the time, according to People magazine, and continued:
What makes me proudest about them is that they also don't get cynical. They have not assumed that, because their side didn't win or because some of the values they care about don't seem as though they were vindicated, that somehow automatically, America had somehow rejected them or rejected their values.
While Obama may be one of the few dads who gets to share his admiration for his daughters on the national stage, there are plenty of aspects of his relationship with Sasha and Malia that are much more typical. For example, there was the time they clearly thought he was a total dork during the annual Thanksgiving turkey pardoning in 2015. Luckily, Obama was able to get back at them when he hilariously imitated their texting and selfie-taking habits during a lighthearted address at a Washington, D.C. high school last year. But Sasha has been known to use her cellphone for another purpose, too: to make fun of her dad's boring musings on Snapchat, as Obama shared on a 2016 appearance on Jimmy Kimmel Live!
Clearly, Sasha and Malia really are "older and taller" than they were in the Father's Day photo their mom posted, and Obama has never missed an opportunity to celebrate the young women they became while in the White House. Happy Father's Day, President Obama!