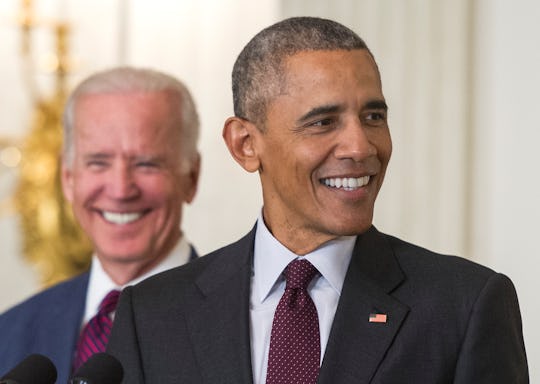 Pool/Getty Images News/Getty Images
Obama May Have Revealed The Gender Of Beyonce's Twins
The world is still eagerly awaiting updates about the birth of Beyoncé and Jay Z's twins, but it's possible that we could actually already know the babies' gender — thanks to one very unexpected source. Former President Barack Obama might have revealed the gender of Beyoncé's twins in a video message congratulating Jay Z on his induction into the Songwriters Hall of Fame, according to People. And honestly, it's pretty much the former POTUS' biggest "dad moment" of all time. While it's still unconfirmed that Obama even knows the twins' gender, if he did make an accidental slip, it seems as though the former president just told the world that the Knowles-Carter twins are actually both girls.
On Thursday, Obama released a video message celebrating this year's inductees, and in the clip, he gave a special shout-out to rapper and twin-dad-to-be, whom the former president called "a friend of mine." He explained that, as far as he was concerned, he and Jay Z had a fair bit in common, including the fact that they'd both had to overcome similar obstacles to become successful, according to CNN. Another important trait they shared? Their love for their children. According to People, Obama said he and Jay Z were "also fools for our daughters," before he added — in what will perhaps go down as the most incredible accidental gender reveal of all time — "although he's gonna have me beat once those two twins show up." (!!!)
It's possible, of course, that Obama was simply referring to the fact that, as a dad-of-three, Jay Z's children will outnumber his two daughters, regardless of gender. But since the Obamas also seem to be pretty good friends with Jay Z and Beyoncé, it seems entirely possible that the former president was unknowingly passing along his own knowledge that, soon, the rapper would be an adoring dad to three little girls.
Speculation over the twins' gender has been a major topic on social media ever since the couple first announced they were expecting back in February. While initially the popular fan theory was that Beyoncé was carrying a boy and a girl, the general consensus among the Beyhive as of late appeared to be that the twins were actually both boys. Beyoncé's mom, Tina Lawson, told Extra back in April that she didn't actually know the genders of the babies (which, let's be honest, probably isn't true), but if Obama did indeed tell the world that the couple was, in fact, having girls, he pretty much just dropped a major bombshell on the entire Internet.
It's not yet known exactly when Obama's video message was taped, but one thing that does seem clear at least is that he hasn't given any clues about whether the twins have already been born. On Wednesday, rumors began to swirl that Beyoncé was in labor after reports that the pregnant singer and her team had arrived at the UCLA Medical Center. The couple has yet to acknowledge the reports — though they did wait two days after Blue Ivy's birth in 2012 to confirm that she'd been born, so it could still be a while. But according to The Daily Mail, some are even speculating that Beyoncé and Jay Z opted to skip the hospital altogether in favor of a home birth (though given that twin deliveries are considered high-risk, according to BabyCenter, that seems a bit unlikely).
In other words, well, we still don't technically know anything for sure about Beyoncé's twins, and we won't until the new parents actually release a statement. But unlike some of the truly out-there theories about the babies gender (her earrings were a sign that she's having a boy and girl! Although another pair of earrings may have been proof they're both boys!), it doesn't actually seem very far-fetched at all to interpret Obama's comment as an accidental admission that the couple is expecting (or may have already welcomed...?) two little girls.
In any case, even if he did spill the beans, having your babies' genders revealed by Obama has to basically be the coolest accidental gender reveal all of time, right? And, just because he's the best, Obama made sure to give both his wife, Michelle, and Queen Bey herself, a sweet shout-out in his message as well. Acknowledging that there was yet another trait both he and Jay Z had in common, according to People, Obama quipped, "Let's face it, we both have wives who are significantly more popular than we are."
But as much as Obama's comments have further complicated the guessing game surrounding the twins' birth, they've also added a ton of new questions into the mix. Will the Obamas babysit? Maybe they'll get to be godparents? Will one of the baby girls be named Michelle? Hopefully Beyonce and Jay Z will finally put the record straight once and for all, because the possibilities are just way too much to handle.