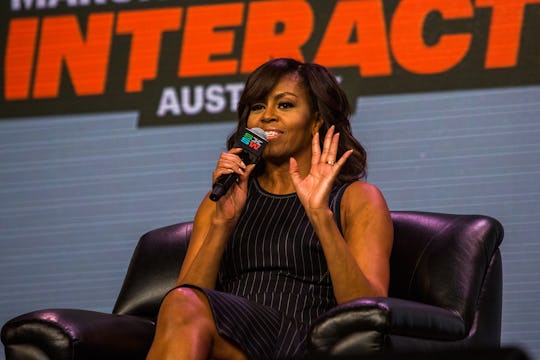 Drew Anthony Smith/Getty Images News/Getty Images
Michelle Obama's New Song Is Helping Girls In An Amazing Way
While everyone is wondering what President Obama will do once he's done being president, first lady Michelle Obama is already starting to hint at her future career plans. This week, she spoke at the South By Southwest festival about her Let Girls Learn initiative and her plans post White House. But really, Michelle Obama's new song "This Is For My Girls," written by Diana Warren and featuring Missy Elliot, Lea Michele, Kelly Rowland, Kelly Clarkson, and other high profile pop stars means that she should start looking into music producer as a career goal.
There are precisely two ways to geek out about the first lady releasing a single to promote her cause.
The first way is to get behind Obama's goal to focus her attention on Let Girls Learn, a government initiative concerned with ensuring that 62 million (yes, 62 million) adolescent girls around the world who face barriers to the most basic education get to show up in a classroom. The first lady is often associated with her other social projects, like Let's Move, which focuses on nutrition and ending the domestic obesity epidemic. Let Girls Learn is a broader attempt to enact change on a global level. It's a very big idea. There are girls everywhere who have to travel far, risk violence, or just can't afford to get to school, and Obama wants to change that.
That brings us to the second way to geek out about this song. Unlike other charity anthems of the past, which may seem cheesy (and maybe "We Are The World" was cool once upon a time), this single doesn't have to be linked to the cause to be, simply, a very good pop song. I mean, who among us can't claim Missy Elliot as a role model in just being the most badass, fashion-forward, and forward-thinking woman around? She was Aaliyah's mentor. Aaliyah. Missy Elliot and Timbaland changed an entire decade of music production. Her verse on the single even includes a shout out to Tupac's "Keep Ya Head Up," which, for what it's worth, is an ode to disenfranchised women everywhere, despite what you might think of the hip-hop icon's legacy.
Mixed in with all the other artists, this song is not just a charity song, but it's informed on many levels. It also validates my very personal opinion that Obama might just be the coolest woman in the world. Others agree on social media.
It's alright if you think it's insane to believe that Obama releasing a single with Missy Elliot, Kelly Clarkson, and other leading female voices will do anything to change the world. And maybe the single may never get enough downloads to make Let Girls Learn become a thing. But it's already number one on the Billboard and Twitter Trending Charts. It's not the '90s, so that's actually an honor. People are downloading it. If they do, Apple is donating the proceeds directly to a U.N. Peace Corps fund that supports girls' education. It's not a lot, but it's something. It's probably just as good as the last Justin Bieber song you'll never admit to actually liking. At least this one has some serious street cred.